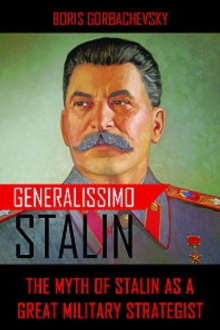 Generalissimo Stalin : The Myth of Stalin as a Great Military Strategist
Paperback / softback
Description
This new book from the author of Through the Maelstrom: A Red Army Soldier's War on the Eastern Front reveals a bitter truth about that war, which has thrown neo-Stalinists in Russia today into a fury.
A frontline veteran who survived the most savage and continuous fighting of the Second World War refutes one of the primary Soviet myths: that it was Stalin's "brilliant strategic mind" and his "invaluable contributions" that brought about the eventual victory.
Partially relying on his own frontline experience in fighting from Rzhev 1942 to Koenigsburg 1945, the author argues that the Red Army emerged victorious from the war in spite of the Kremlin tyrant, who never spared his soldiers' lives and who recognized only one strategy: to break the Wehrmacht's resistance by overloading it with the corpses of Red Army soldiers.
He maintains that it was the people who won the war, but Stalin stole the mantle of victory and donned it himself after the war. Gorbachevsky goes on to argue that the Soviet regime and recent official Russian estimates deliberately understated the staggering true cost of that victory, and reveals the scandalous official mistreatment of returning prisoners-of-war, neglect of war invalids and disregard of the millions of soldiers' remains lying in shallow, unmarked, often fraternal graves and the millions more still listed as"missing-in-action" - all of which show the Stalinist system's disdain for human life. About the AuthorBoris Gorbachevsky is a Red Army veteran of three years of combat on the Eastern Front of the Second World War.
Twice wounded, he rose to the rank of captain, and was decorated with four Orders and many medals for his service in campaigns that took him from Rzhev in 1942 to the shores of the Baltic and on to Czechoslovakia by war's end.
He is a 1950 graduate of the Moscow Printing Institute, where he worked for the next 40 years as an instructor, journalist and editor.
He is the author of 24 books published in Russia, six of them children's books, and for 20 years served as the editor of the All-Union Institute of Scientific and Technical Information's monthly journal Izdatel'skoe delo i poligrafiia [Publishing and Printing].
In 1994 he moved to Rhode Island , where for 6 years he published the state's sole Russian-language journal Vestnik Rod-Ailenda.
In 2007 he published his memoirs in Russia, Rzhevskaia Miasorubka [The Rzhev Slaughterhouse], which were translated into English and published by the University Press of Kansas in 2008 under the title Through the Maelstrom.
Today Boris Gorbachevsky resides in the state of New York.
Information
Format: Paperback / softback
Pages: 350 pages, c 30 b/w photos, maps
Publisher: Helion & Company
Publication Date: 15/04/2014
Category: European history
ISBN: 9781909384255
Free Home Delivery
on all orders
Pick up orders
from local bookshops
Also by Boris Gorbachevsky