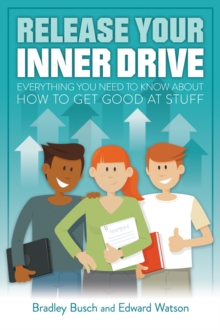 Release Your Inner Drive : Everything you need to know about how to get good at stuff
Paperback / softback
Description
The graphics distil the latest research into psychology and neuroscience, alongside explanations of what exactly this means for teenagers and what they can do with these insights in practice.
We know more than ever about the science of learning, and now everyone can quickly tap into the success strategies that have been proven to help people thrive and flourish. Have you ever wondered how people get really good at stuff?
It turns out that there are a collection of habits that help people to get good at whatever it is they do.
Researchers and academics in the fields of psychology and neuroscience have spent years trying to understand why some people flourish and others never truly fulfil their potential.
Bradley and Edward have condensed that wisdom into this no-nonsense, visual guide which also provides clear explanations of the concepts, along with links to the latest research, for those who want to delve deeper into these fascinating insights.
Each infographic distils everything you need to know to cultivate these habits and give yourself the best possible chance of success.
Discover how to: take control, concentrate better, find your motivation, fail better, make revision stick, perform under pressure, ace those exams, put down that phone when you're meant to be revising, get over FOMO, stop procrastinating, get a good night's sleep, take care of yourself and your mental health, learn from sporting champions and grow your mindset to get ahead. The book is also ideal for anyone who has children and wants to nurture their talents, or for teachers who want to ensure that their students develop the attitudes, beliefs and habits that maximise learning and performance. Suitable for young people and anyone who wants to help them achieve their potential, including parents and teachers.
Information
Format: Paperback / softback
Pages: 160 pages
Publisher: Crown House Publishing
Publication Date: 01/05/2017
ISBN: 9781785831997
Free Home Delivery
on all orders
Pick up orders
from local bookshops