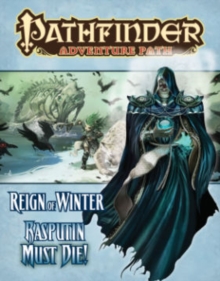 Pathfinder Adventure Path: Reign of Winter Part 5 - Rasputin Must Die
Paperback / softback
Description
The search for the Queen of Witches finally ends when the Dancing Huttravels to Baba Yaga's homeland of Russia on the planet Earth.
The year is1918, and the First World War rages throughout Europe.
The heroes findthemselves in the wilds of Siberia, where they must face Russian soldiers armedwith 20th-century technology to infiltrate an ancient monastery and rescue BabaYaga from her estranged son, Grigori Rasputin.
Can the heroes kill the"Mad Monk," who has already cheated death once before, and free BabaYaga, or will they too fall before the horrors of modern war?
A Pathfinder Roleplaying Game adventure for 13th-level characters,Rasputin Must Die! is continues the Reign of Winter AdventurePath, and includes details on the soul-harvesting worship of the daemonicHorseman of War, new rules for World War I-era weapons and equipment, and a newoccult oracle mystery based on 20th century mysticism.
Several new monsters inthe Pathfinder Bestiary and author Kevin Andrew Murphy's new PathfinderJournal novella rounds out this exciting volume of the Pathfinder AdventurePath.
Information
Format: Paperback / softback
Pages: 96 pages
Publisher: Paizo Publishing, LLC
Publication Date: 09/07/2013
Category: Indoor games
ISBN: 9781601254962
Free Home Delivery
on all orders
Pick up orders
from local bookshops