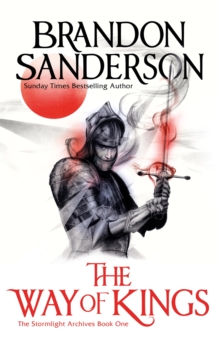 The Way of Kings Part One : The Stormlight Archive Book One
Paperback
Description
The brand new epic fantasy series from international bestseller Brandon Sanderson.According to mythology mankind used to live in The Tranquiline Halls.
Heaven. But then the Voidbringers assaulted and captured heaven, casting out God and men.
Men took root on Roshar, the world of storms. And the Voidbringers followed ...They came against man ten thousand times.
To help them cope, the Almighty gave men powerful suits of armor and mystical weapons, known as Shardblades.
Led by ten angelic Heralds and ten orders of knights known as Radiants, mankind finally won.Or so the legends say.
Today, the only remnants of those supposed battles are the Shardblades, the possession of which makes a man nearly invincible on the battlefield.
The entire world is at war with itself - and has been for centuries since the Radiants turned against mankind.
Kings strive to win more Shardblades, each secretly wishing to be the one who will finally unite all of mankind under a single throne.On a world scoured down to the rock by terrifying hurricanes that blow through every few days is a young spearman, forced into the army of a Shardbearer, led to war against an enemy he doesn't understand and doesn't really want to fight.
What happened deep in mankind's past? Why did the Radiants turn against mankind, and what happened to the magic they used to wield?
Information
Format: Paperback
Pages: 608 pages
Publisher: Orion Publishing Co
Publication Date: 01/05/2011
Category: Fantasy
ISBN: 9780575097360
Free Home Delivery
on all orders
Pick up orders
from local bookshops
Reviews
Showing 1 - 2 of 2 reviews.
Review by Shirezu
16/06/2015
I wasn't sure if I would like this book or not. I know a lot of people have raved about it but that's not always a good indicator. I read the first of Sanderson's Mistborn series and even though I really liked it there was nothing in it that made me want to continue.<br/><br/>This book does much better. The multiple characters with their own threads makes me want to know how it all connects. Where is it all leading. I was gripped from the beginning right through to the end and am kicking myself that I left part 2 at home. A truly epic beginning I hope this series can keep the quality up unlike other series which lost their way like The Sword of Truth, Wheel of Time and The Riftwar Saga.
Review by Ben_Harnwell
16/06/2015
I haven't read a fantasy novel in sometime and this one has sat on my "to read" pile for far too long. <br/>I got it when I met Sanderson at Supanova Melbourne 3 years ago. I've only read the first Mistborn of his so it was a punt to buy both halves of this series and another book, but his line was empty and I felt sorry for him. <br/>Boy did I win though. What a great read and a great concept. Power comes from gem stones and swords can be conjured out of thin air. <br/>He has created a world that is both broken and fantastic, believable and full of mythology. <br/>I had to start part 2 as soon as I finished part 1. <br/>Note: some might say this is a little formulaic it does have similar themes to Mistborn but I like that he is created new worlds. Reminds me a lot of Modesitt's work.
Also in the Stormlight Archive series | View all