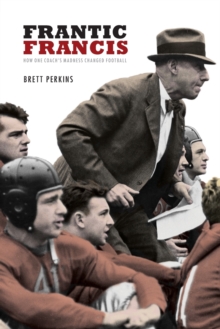 Frantic Francis : How One Coach's Madness Changed Football
Paperback / softback
Description
When Francis Schmidt, a bow tie-wearing law school graduate with a bombastic personality, got started as a volunteer high school coach, football still followed Victorian tenets of caution and simplicity and often employed fewer than fifty plays.
By the time "Frantic Francis" had risen through the ranks of small colleges on the plains to one of the top coaching jobs in America-head coach at Ohio State University in the 1930s-football was a wild, wide-open game, largely because of Schmidt's own daring style.
With a mind that never stopped thinking about football, he created a playbook ten times larger than those previously used during his era and filled it with daring, complex plays that broke all the decades-old golden rules of offense.
This book tells the little-known story of the man who forever changed the way football is played-and whose coaching lineage can be traced to such current names as Bill Walsh, Al Davis, and Mike Holmgren.
Frantic Francis offers an unforgettable portrait of an eccentric character whose paranoid, manic, brusque, and profane ways shocked and confused even his players, but whose speedy, deceptive, and imaginative plays remade the sport of football.
Although Schmidt's mania eventually sabotaged his career, his legacy was secure and the style he introduced continues to make football one of the most popular spectator sports in America.
Information
Format: Paperback / softback
Pages: 536 pages, 12 photos
Publisher: University of Nebraska Press
Publication Date: 01/09/2009
Category: Biography: sport
ISBN: 9780803218949