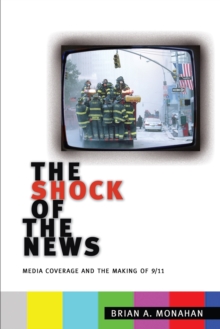 The Shock of the News : Media Coverage and the Making of 9/11
Paperback / softback
Description
How did the events of September 11, 2001 come to be thought of as 9/11?
The Shock of the News is an authoritative account of post-9/11 political and social processes, offering an in-depth analysis of the media coverage of this momentous event.
Brian Monahan demonstrates how 9/11 has been transformed into a morality tale centered on patriotism, victimization, and heroes. Introducing the idea of "public drama" as a way of making sense of how media processed and packaged the 9/11 attacks for their audiences, Monahan not only illuminates how and why the coverage took shape as it did, but also provides us with new insights into the social, cultural, and political consequences of the attacks and their aftermath.
Monahan explains how and why 9/11 became such a potent symbol, exploring how meanings and symbols get created, reinforced, and disseminated in modern society.
Ultimately, Monahan offers an important new understanding of this singular event of our time, and his compelling narrative brings the momentous events back into focus.
Information
Format: Paperback / softback
Pages: 272 pages
Publisher: New York University Press
Publication Date: 29/03/2010
Category: Media studies
ISBN: 9780814795552
Free Home Delivery
on all orders
Pick up orders
from local bookshops