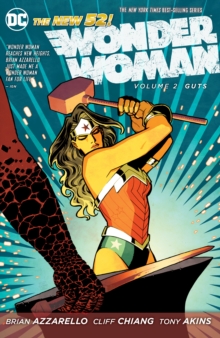 Wonder Woman Volume 2: Guts TP (The New 52)
Paperback
Description
Wonder Woman goes to hell! After playing Poseidon, Hades, and Hera againsteach other, Hades strikes back by kidnapping Zola and trapping her in theUnderworld.
It's up to Wonder Woman - with a little help from the God ofLove and the God of Smiths - to break Zola out.
But what is Hades' realgame, and once you get into the land of the dead, how exactly do you getout?Collecting Wonder Woman #7-12.
Information
Format: Paperback
Pages: 144 pages
Publisher: DC Comics
Publication Date: 02/09/2013
Category: Superheroes
ISBN: 9781401238100
Free Home Delivery
on all orders
Pick up orders
from local bookshops
Reviews
Showing 1 - 3 of 3 reviews.
Review by hobreads
16/06/2015
Volume 2 of the "New 52" Wonder Woman. Good story, good art. The gods of the past - Hermes, Eros, War, etc - appear in supporting roles, like they have in the past. This time, though, the gods are reinterpreted drastically different.
Review by shanaqui
16/06/2015
I'm not really a fan of Wonder Woman, I think, at least not in this incarnation. I'm not fond of the character designs, except maybe for Strife (but she reminded me of someone else; maybe a Neil Gaiman character?) and Wonder Woman herself, and the plot just... Nah. I can take some tweaks to my mythology (hello Thor), but this was strangely closer to the actual mythology and further from the spirit of the mythology. Or something. The bickering among the gods, Hera's jealousy, etc -- it all makes sense within Greek myth, but they seemed cardboard cutouty, which Thor and Loki do <I>not</i>.
Review by ElizaJane
16/06/2015
I'm really enjoying the new Wonder Woman! I'm a big fan of Greek mythology and I just love how firmly her new genesis is grounded within that mythos. In this book a whole slew of the gods turn up and we've got a good deal of Zeus' progeny on the scene now. The whole book can be described as a classic chase scene so the plot doesn't go forward too much but a great deal of new information is being introduced about the characters and background. A great portion of the book takes place in Hades and concerns that god; I really enjoyed that as I always enjoy stories about Hades and I must say I was impressed with the rendering of him with the flames on his head. Great artwork there. Wonder Woman and her gang are chasing after Zola to rescue her from Hades and that story arc finishes with this volume and ends with the birth of the child. However we have a plot twist at the ending that will keep us in rescue mode for the next volume.