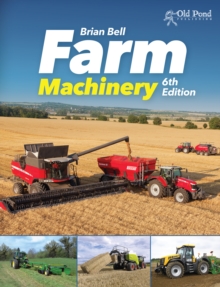 Description
Farm Machinery is the standard book on the current theory and practice of farm mechanisation for students and farmers.
First published in 1979, this new sixth edition incorporates much new text together with 280 new colour photographs illustrating the steady flow of developments in farm mechanisation that have taken place over the past decade.
Recent advances in computer technology and satellite field mapping are included and new content enriches the earlier material dealing with the working principles and operation of the vast array of the somewhat less sophisticated farm tractors and machines still in use on British farms.
There are chapters on tractors, cultivation and drilling equipment, crop care and harvest machinery.
Further chapters deal with farmyard and estate maintenance equipment, mechanical handlers, dairy equipment, irrigation farm power and the farm workshop.
References are made to the UK Health & Safety at Work Act and other safety regulations.
These summarise their main requirements, but they should only be taken as a guide.
Brian Bell has had a long involvement with farm machinery that started with an apprenticeship in a tractor dealership. After a teaching career on farm machinery at Otley College in Suffolk he retired as Vice Principal in 1993 when he was awarded the MBE for services to agriculture.
Brian Bell has written a number of books and made seventeen DVDs on modern and vintage tractors and machinery.