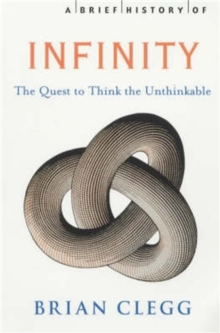 A Brief History of Infinity : The Quest to Think the Unthinkable
Paperback
Description
'Space is big. Really big. You just won't believe how vastly, hugely, mind-bogglingly big it is.
I mean, you may think it's a long way down the street to the chemist, but that's just peanuts to space.' Douglas Adams, Hitch-hiker's Guide to the GalaxyWe human beings have trouble with infinity - yet infinity is a surprisingly human subject.
Philosophers and mathematicians have gone mad contemplating its nature and complexity - yet it is a concept routinely used by schoolchildren.
Exploring the infinite is a journey into paradox. Here is a quantity that turns arithmetic on its head, making it feasible that 1 = 0.
Here is a concept that enables us to cram as many extra guests as we like into an already full hotel.
Most bizarrely of all, it is quite easy to show that there must be something bigger than infinity - when it surely should be the biggest thing that could possibly be.
Brian Clegg takes us on a fascinating tour of that borderland between the extremely large and the ultimate that takes us from Archimedes, counting the grains of sand that would fill the universe, to the latest theories on the physical reality of the infinite.
Full of unexpected delights, whether St Augustine contemplating the nature of creation, Newton and Leibniz battling over ownership of calculus, or Cantor struggling to publicise his vision of the transfinite, infinity's fascination is in the way it brings together the everyday and the extraordinary, prosaic daily life and the esoteric.Whether your interest in infinity is mathematical, philosophical, spiritual or just plain curious, this accessible book offers a stimulating and entertaining read.
Information
Format: Paperback
Pages: 272 pages
Publisher: Little, Brown Book Group
Publication Date: 12/09/2003
Category: Calculus & mathematical analysis
ISBN: 9781841196503
Free Home Delivery
on all orders
Pick up orders
from local bookshops
Reviews
Showing 1 - 2 of 2 reviews.
Review by gravity-xiv
16/06/2015
I was rather disappointed with this book. Though decently written and fairly easy to understand, it simply lacked the content I was hoping for. Perhaps though this was my own mistake, as I was looking for a more theological/philosophical themed exploration of infinity. While they do touch upon these themes lightly, for most of the book I had to drugde through lots and lots of mathematical concepts and theories (which to be honest isn't really my thing). I suppose my complaint is more for the summary/back of the book which didn't really warn me what I was in for; my mistake perhaps. For the most part, if you're interested, it's a decent book. Worth the time if you have it to spare, but not if there are other things that take priority.
Review by StephenBarkley
27/08/2015
For a theologian, infinity is an important thought. Typically, we consider God infinite and his creation (i.e. us) finite. This has serious implications concerning our relationship to him. How can the finite approach the infinite? Consider these words from the prophet Isaiah:"For as the heavens are higher than the earth,so are my ways higher than your waysand my thoughts than your thoughts."(Isaiah 55:9 ESV)In A Brief History of Infinity, Brian Clegg surveys how people have tried to understand the idea of the infinite from the ancient Greek philosophers through 20th Century mathematicians (and everyone in between). It turns out that pagan and religious thinkers alike have wrestled with the paradoxes of infinity for centuries.Consider this frustrating thought experiment. Take a series of fractions. The numerator is always 1. The denominator doubles each time. With each fraction you list you get closer to 2, but never quite there. There's an infinite space between the simple integers 1 and 2. How can this be? It's no wonder some of the people to wrestle with infinity have lost the match and fell into madness!Infinity (the book) is a satisfying mix of history and mathematics.
Also in the Brief Histories series | View all