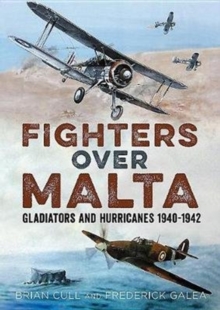 Fighters Over Malta : Gladiators and Hurricanes 1940-1942
Hardback
Description
Brian Cull's definitive `Fighters over Malta: Gladiators and Hurricanes 1940-1942' is a highly detailed account of the gallant band of RAF and Commonwealth pilots who flew Gladiators and Hurricanes in defence of Malta between June 1940 and April 1942, when help in the guise of Spitfires finally arrived.
Most of the Hurricanes which held this tiny outpost of the British Empire in the heart of Axis-dominated territory had been flown from the decks of aircraft carriers or from bases in North Africa, while a handful of fighter pilots arrived by Sunderland flying boats or other aircraft in transit from the UK via Gibraltar.
Many of these pilots were inexperienced and quickly paid the supreme price, particularly when the Messerschmitt pilots of the elite 7/JG26 arrived in Sicily in early 1941, and later in the year when more from JG53 made their presence felt. A number of important personal diaries and journals have come to light, and these have been widely quoted to provide the atmospheric background, the thoughts and the hopes of some of the Hurricane pilots who defended Malta.
Not all of the diarists survived, but their impressions provide a fitting tribute to their courage, aspirations and fears.
Much of the early period of the air defence of Malta is enhanced by the personal experiences of Flt Lt (then Sgt Plt) James Pickering AFC, who flew Hurricanes with 261 Squadron.
Information
Format: Hardback
Pages: 512 pages, 64 black and white photographs and one map.
Publisher: Fonthill Media
Publication Date: 14/12/2017
Category: Air forces & warfare
ISBN: 9781781556634