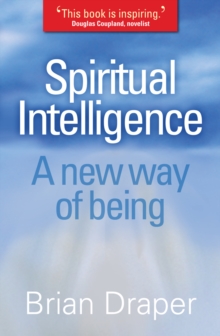 Spiritual Intelligence
Paperback
Description
Aocording to the philosopher Danah Zohar (who coined the idea of spiritual intelligence), we live in a 'spiritually dumb' culture, alienated from each other, too busy to take time to reflect, and trying desperately to juggle the myriad pulls and pushes of life without cracking up.
How can we find meaning from meaninglessness, hope from despair, reconciliation from alienation and wholeness from fragmentation?
In this book, Brian Draper asks how ordinary people, whether religious or not, can nudge themselves (or be gently nudged) to live on a daily basis with increasing integrity, wholeness and well-being - to become more spiritually intelligent. The book is split into 4 main sections: 'awakening', 'seeing your world afresh', 'living the change' and 'passing it on'.
The narrative style is contemplative, reflective and engaging.
Free Home Delivery
on all orders
Pick up orders
from local bookshops
Reviews
Showing 1 - 1 of 1 reviews.
Review by sainsborough
16/06/2015
I cannot recommend this book enough. It is the kind of book that got me so excited while reading it that I resolved to start it again from the beginning as soon as I reached the end. I have also highlighted passages that resonated with me - of which there were many. Brian Draper came and spoke at the church I occasionally attend. He is young and dynamic and very much in touch with youth culture today. (For example, he has often written for the official U2 website.) I was so impressed with what he had to say that I bought his book after the church service.In his introduction he says: "But this book is not about becoming religious and neither is it seeking to persuade the reader to follow a particular line. Instead, I hope it provides wisdom for the journey of life, whoever you are, wherever you come from and whatever you believe."Well, the book certainly does that. Particularly helpful to me was a section dealing with letting go of seeing oneself in competition with others. With a new outlook one is enabled to be happy for others doing well, while enjoying a secure knowledge of one's own unique contribution. The only bit that jarred somewhat for me was where he suggests in passing that God might be regarded as Father or Mother. God the Mother doesn't fit and doesn't fit with Biblical teaching! I know that the book isn't meant to be confined to the Christian outlook, but this is the only reference that actually conflicts with Christian teaching. So I've given the book five stars not for perfection, but for its value in terms of what it can do for the reader. I urge you to read it, see what it does for you and let me know what you think!