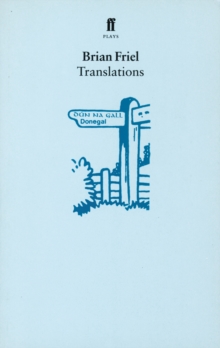 Description
The action takes place in late August 1833 at a hedge-school in the townland of Baile Beag, an Irish-speaking community in County Donegal. In a nearby field camps a recently arrived detachment of the Royal Engineers, making the first Ordnance Survey.
For the purposes of cartography, the local Gaelic place names have to be recorded and rendered into English.
In examining the effects of this operation on the lives of a small group, Brian Friel skilfully reveals the far-reaching personal and cultural effects of an action which is at first sight purely administrative.
Translations is a modern classic. It engages the intellect as well as the heart, and achieves a profound political and philosophical resonance through the detailed examination of individual lives, of particular people in particular place and time." Daily Telegraph "This is Brian Friel's finest play, his most deeply thought and felt, the most deeply involved with Ireland but also the most universal: haunting and hard, lyrical and erudite, bitter and forgiving, both praise and lament." Sunday Times
Information
Format: Paperback
Pages: 112 pages
Publisher: Faber & Faber
Publication Date: 27/04/1981
Category: Plays, playscripts
ISBN: 9780571117420
Other Formats
EPUB from £8.00
Paperback from £15.19
Free Home Delivery
on all orders
Pick up orders
from local bookshops
Reviews
Showing 1 - 4 of 4 reviews.
Review by Joles
16/06/2015
This is an extremely moving play by Brian Friel. The original cast had Liam Neeson. The story is about how the British came in to Ireland and changed place names and such. It is very telling of how both the Irish and British felt (from an Irish view) about these changes.
Review by baswood
16/06/2015
Its a short three act play set in Ireland in 1833. English soldiers from the Royal Engineers have set up camp near a small catholic community in order to check the maps of the area and to Anglicise the place names. All three acts take place in the local hedge school and centre on the worsening relations between the soldiers and the locals. It is however so much more than that. During its short duration the play covers issues such as : the importance of language, failure of communications, cultural differences, community, colonialism, development and change, difficulties of making a living, and terrorism. I forgot to mention love, there are even star crossed lovers to tear at the heart strings.The writing is superb, hardly a word wasted and after its hour and a half duration the characters will live long in the memory. The 60 year old "infant prodigy" who is fluent in Gaelic, Greek and Latin but does not speak any English. Hugh the drunken master of the school who is convinced that he is going to be master of the new proper school. Sarah who has a severe speech impediment and so has no language and doesn't count for anything. George Yolland a reluctant soldier who falls in love with the countryside and wants to be accepted by the community, but of course cannot understand anything they say.Together with the tragedy there is much wit and humour and I found myself identifying with the Yolland character and his attempts to integrate into a different culture. There are some memorable lines (the sign of a good play):George Yolland "Even if I did speak Irish I would always be an outsider here, wouldn't I? I may learn the password but the language of the tribe will always elude me.Hugh "English succeeds in making it sound .....plebeianHugh "I'm afraid we are not familiar with your literature, Lieutenant. We feel closer to the warm mediterranean. We tend to overlook your island.Of course to really appreciate a play it needs to be seen in performance in a theatre with a live audience, so that you can be caught up in the emotions and can laugh along with the jokes. What a performance it must have been at its first presentation at the Guildhall in Derry, with Liam Neeson, Ray McAnally and Stephen Rae in the cast
Review by jawalter
16/06/2015
About the only thing I can say against this play is that I'm completely incapable of imagining it inside my head. The Celtic words are so strange that they continually drag me away from the play, as I try to figure out how they sound, and the fact that Friel uses English to represent two different languages doesn't help.<br/><br/>But none of this is any fault of the play, but merely a symptom of my own ignorance. In truth, the play is brilliant, addressing language as both a form of healing and as a corrupting and oppressive power.
Review by shanaqui
16/06/2015
I'm not ordinarily a fan of plays, to be honest. I liked parts of this, but I'm not good at reading plays properly. Looking forward to discussion in class to shed some light on it. I might have a better review and possibly a different rating then.