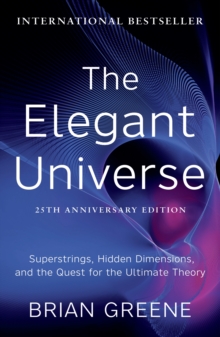 The Elegant Universe
Paperback
Description
In The Elegant Universe Brian Greene, one of the world's leading string theorists, peels away the layers of mystery surrounding string theory to reveal a universe which isnt quite what we think: one that consists of eleven dimensions, where all matter is generated by the vibrations of microscopically tiny loops of energy.
Greene uses everything from an amusement park ride to ants on a garden hose to explain the beautiful yet bizarre realities that modern physics is unveiling.
Dazzling in its brilliance, unprecedented in its ability to both illuminate and entertain, The Elegant Universe is a tour de force of scientific writing - a delightful, lucid voyage through modern physics that brings us closer to understanding how the universe works.
Information
Format: Paperback
Pages: 464 pages
Publisher: Vintage Publishing
Publication Date: 03/02/2000
Category: Popular science
ISBN: 9780099289920
Free Home Delivery
on all orders
Pick up orders
from local bookshops
Reviews
Showing 1 - 5 of 5 reviews.
Review by Ishpeck
16/06/2015
Brian Greene explores, in plain English, the concepts behind contemporary string theory physics, the history that lead to its development, and the many potential outcomes of its further refinement.
Review by agricolaoval
16/06/2015
No matter how you look at it this is an inspiring book. String theory may or may not represent the real world, and to be quite honest it's still a mathematical model in need of empirical confirmation. The charm of this book is how it makes our most self evident truths problematic. It doesn't matter which of the theories will eventually prevail; it's quite evident that they are going to break totally with our naive and immediate understanding of space and time. The truth is that we have no idea what space is or what a particle really is. The real value of string theory is the fact that it offers a fairly convincing argument for our living in a ten dimensional spacetime. A sobering thought no matter if it's true or not. It is a line of thought that makes us see that we don't really understand the world much better than people did in the paleolitic times. The world is more exciting that ever before because what science has done is opening up vast new frontiers that need to be explored. This moment is possibly the most exciting in human history. Nothing can be compared to the feeling that we may have to debunk a big part of what we have believed in and start out on a totally new path. String theory may not be the final answer, but it certainly has contributed to the insight that it's now impossible to go back to where we used to live. Which is a very unsanitary thing to do anyway.
Review by sirfurboy
16/06/2015
This is a fantastic book that hits a sweet spot between too much detail and too superficial coverage of the topic. Covering the breadth of modern physics, it does a creditable job of taking an interested layman through to the world of string theory, and allowing us to see that there really is elegance in the universe.
Review by labwriter
16/06/2015
My husband read this book in under a week--absolutely ate it up, loved it. I plowed my way through the thing in about six weeks. I won't say I understood it all--far from it. For that you probably need a strong physics or math background. But I did learn something, and it was a stretch reading outside my comfort zone. The book is dense reading (and by that I don't mean it's written badly, it's just packed with information), but it's certainly not impenetrable for a reasonably intelligent reader. Greene has done a good job of making difficult material accessible to the layman who has an interest in and a willingness to understand the subject. He doesn't assume that the reader has a previous knowledge of physics, but he does assume his reader is willing to work at it. If you read this book, your brain will grow--ha.
Review by psiloiordinary
16/06/2015
Definitely one of the better physics overviews. Plenty of metaphor and thought experiments but nothing too weird. More in it than "A Brief History of Time", more accessible than "The Particle at the End of the Universe" (OK not exactly the same subject matter) and more physicsy than "The selfish Gene" :-).