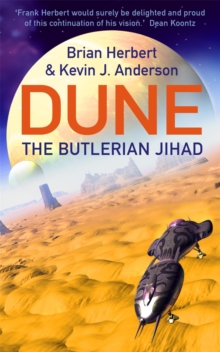 The Butlerian Jihad
Paperback
Description
It began in the Time of Tyrants, when ambitious men and women used high-powered computers to seize control of the heart of the Old Empire including Earth itself.
The tyrants translated their brains into mobile mechanical bodies and created a new race, the immortal man-machine hybrids called cymeks.
Then the cymeks' world-controlling planetary computers - each known as Omnius - seized control from their overlords and a thousand years of brutal rule by the thinking machines began.
But their world faces disaster. Impatient with human beings' endless disobedience and the cymeks' continual plotting to regain their power, Omnius has decided that it no longer needs them.
Only victory can save the human race from extermination.
Information
Format: Paperback
Pages: 624 pages, None
Publisher: Hodder & Stoughton General Division
Publication Date: 28/04/2003
Category: Science fiction
ISBN: 9780340823323
Free Home Delivery
on all orders
Pick up orders
from local bookshops