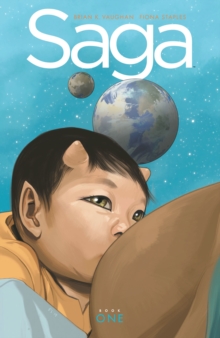 Description
"It's easy to run out of accolades for this superb series...
The dialogueis smart, arch and always rings true, and the visuals, rendered digitally, arealluring and inventive.
The Stalk, an eight-eyed, eight-limbed female bountyhunter, remains a creepy favorite." -The New York TimesAt longlast, a deluxe hardcover of the Hugo Award-winning Saga is finally on itsway!
Collecting the first three trade paperbacks (issues #1-18) of the smash-hitseries, this massive edition features a striking new cover, as well as specialextras, including never-before-seen sketches, script pages, and a roundtablediscussion with the creators about how Saga is really made.
Altogether,this hardcover contains over 500 pages for less than fifty bucks!
Written byEisner Award-winning "Best Writer" Brian K.
Vaughan (Y: The Last Man,The Private Eye) and drawn by Harvey Award-winning "Best Artist" FionaStaples (Mystery Society, North 40) Saga is the story ofHazel, a child born to star-crossed parents from opposite sides of anever-ending galactic war.
Now, Hazel's fugitive family must risk everything tofind a peaceful future in a harsh universe that values destruction overcreation. Kieron Gillen, Jamie McKelvie and Matthew Wilson return with anEisner Award-nominated modern fantasy where gods are the ultimate pop stars andpop stars are the ultimate gods.
Revel in the opulence of this over-sizedhardback! Revel in it! Collects issues 1 through 11.
Information
Format: Hardback
Pages: 504 pages
Publisher: Image Comics
Publication Date: 25/11/2014
Category: Comics and Graphic Novels
ISBN: 9781632150783
Free Home Delivery
on all orders
Pick up orders
from local bookshops