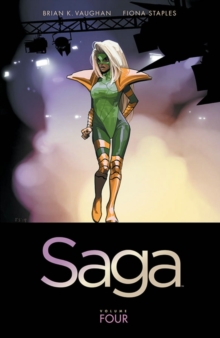 Description
The #1 New York Times bestseller returns! Visit new planets, meet newadversaries, and explore a very new direction as Hazel becomes a toddler, whileher family struggles to stay on their feet. Collects Saga #19-24.
Information
Format: Paperback
Pages: 144 pages
Publisher: Image Comics
Publication Date: 23/12/2014
Category: Science fiction
ISBN: 9781632150776
Free Home Delivery
on all orders
Pick up orders
from local bookshops
Reviews
Showing 1 - 5 of 17 reviews.
Previous | Next
Review by lycomayflower
16/06/2015
Still gorgeous, compelling, brilliant, sexy, and violent. Leaves me wanting more, more, more.
Review by jnwelch
27/08/2015
This is the fourth volume in the Saga graphic novel science fiction series. This is the best sci-fi gn series I've seen, with a twisty, always interesting story by Brian K. Vaughan and jump-off the page color illustrations by Fiona Staples.So what's the story? Well, it's complicated, but easy to follow once you enter it. The planet Landfall and its winged inhabitants is at war with its moon Wreath, whose people are horned, and the war is affecting planets far and wide. Our heroic winged and horned couple, Alana and Marko, have a Montagues and Capulets thing going, with a cute daughter named Hazel who is abhorred and adored, depending on the audience.The daughter narrates the story. A ruthless robotic elite is trying to track them down, and employing exotic bounty hunters to get the job done.We also have a spaceship that's a tree, a baby sitter who's the ghost of a 14 year old girl, swords that cut through space and time, and lots more, including romance, trying to raise a child under such bizarre circumstances, and complex villains who have their non-evil aspects. There's a confidence and humor to the storytelling that's irresistible. Staples does an amazing job with the visuals for this unpredictable series. If this kind of thing appeals to you, you'll want to give this one a try. Four and a half stars, which may turn into five if the series fulfills its promise.
Review by MillieHennessy
27/08/2015
Ah! I friggen love this comic! It's funny, sad, sexy, gross and action packed with space drama. But now, I've gone and devoured it and I don't even have a release date for volume 5 to pine for. This is why I avoid comics. I can't stand the torture of waiting for one volume a read, two if I'm lucky (I'm not). I need more Saga in my life right now! I need all the Saga! If you haven't started this yet, go get all the volumes right away!
Review by -Eva-
16/06/2015
Hazel is now a toddler who keeps Marko on his feet, Alana's new job brings unexpected trouble to the family's happiness, Prince Robot IV's son is kidnapped, and they all need to team up if they are ever to put things right. This is yet another excellent installment in an excellent series. The characters are so easy to get emotionally invested in and the stakes are truly life-or-death, which makes for a very high-pressure read. Which, of course, makes the wait for the next book in the series pretty much agony.
Review by fyrefly98
16/06/2015
Summary: Marko, Alanna, and their toddler Hazel have gone into hiding on a planet that is officially neutral in the ongoing war between Landfall and Wreath. Even though there are forces from both governments - and others that have more personal grudges - that are hunting them, life still must go on. Alanna is earning a living working on an underground broadcast soap-opera (in costume, so her true identity is protected), while Marko spends his day caring for Hazel. But the stresses of being fugitives are beginning to get to them… Alanna turns to drugs to get through the mind-numbing awfulness of work, while Marko finds himself drawn to a fellow parent during Alanna's increasing absences. The only way they've survived as long as they have is by working together, so as the cracks in their relationship begin to show, can they have a prayer of keeping their family intact when their enemies finally track them down?Review: Saga continues to be brilliant, just brilliant. As much as I'm having a hard time saying that I "liked" this volume, when it is so heart-achingly hard to watch Marko and Alanna fall apart, that's part of what makes it so good. Relationships, even relationships as seemingly strong and romantic as theirs, aren't always easy, and don't always survive in the face of stress and change, no matter how much I love the pair of them and am pulling for them to work it out. For all the fantasy and sci-fi and bizarre left-field elements that this series contains, it is unflinchingly real and honest when it comes to the interpersonal dynamics, which is I think what makes it so great. 4 out of 5 stars.