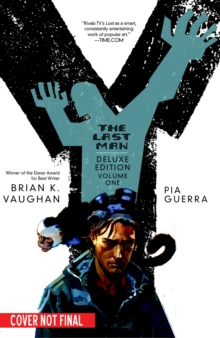 Y The Last Man Deluxe Edition HC Vol 01
Hardback
Description
Written by Brian K. Vaughan Art by Pia Guerra & Jose Marzan, Jr. Cover by Massimo Carnevale The first ten issues of the award-winning series written by Brian K.
Vaughan (EX MACHINA, Lost) are collected in an oversized hardcover with a new cover!
Don't miss the amazing SF epic that Stephen King called "The best graphic novel I've ever read." Advance-solicited; on sale October 15 * 256 pg, FC, $29.99 US 7.0625" x 10.875" * MATURE READERS
Information
Format: Hardback
Pages: 256 pages
Publisher: DC Comics
Publication Date: 22/10/2008
Category: Comics and Graphic Novels
ISBN: 9781401219215
Free Home Delivery
on all orders
Pick up orders
from local bookshops
Reviews
Showing 1 - 5 of 10 reviews.
Previous | Next
Review by janepriceestrada
16/06/2015
I was not sure how I would feel about this as it is my first comic or graphic novel. The first few episodes came off a bit cliché in setting up the premise but as it developed some interesting things were touched on. I had a hard time pacing myself to get the full effect of climatic scenes as I tend to read quickly, but overall it was enjoyable.
Review by KafkaMaze
16/06/2015
Thankfully I got into this series after everything was published, thus I won't be waiting for new installment. This hardcover edition of the first two volumes is a good buy. I find the story fairly engrossing, and Yorick is a great protagonist. Vaughan is pretty good at weaving in Shakespearian allusions as well!
Review by dbui
16/06/2015
This book is fantastic for the young reader who started to learn about graphic novels. Brian K. Vaughan makes a lot of twist in every series in the book. He's one heck of a great writer.
Review by catfantastic
16/06/2015
_Y the Last Man_ takes the old sci-fi trope of the only man in a world of women and turns it on its head - turning the story into an action-packed post-apocalyptic thriller that attempts to address what sort of social, political, military and industrial conflicts would arise in a world where all the men (and indeed every mammal with a "Y" chromosome) were to suddenly drop dead. The protagonist is Yorick Brown, the only man left alive after the "gendercide" for reasons unknown. His pet monkey, Ampersand, also male, is also a survivor, and together they are the only two male mammals on the face of the planet. Why did they survive and what caused the "plague" are mysteries of the series - was it divine will or a scientific biochemical weapon or something else entirely? And why were Yorick and his monkey spared? As a main character, Yorick is absolutely terrific - the somewhat dorky, good-hearted English major-slash-escape artist/stage magician who only wants to be reunited with his girlfriend, Beth (unfortunately she's 10,000 miles away in Austraila, but Yorick won't cheat on her) he is immediately and completely likeable. He's someone you feel good rooting for, and Vaughan is a master of dialogue - the characters are all very distinct and three-dimensional, Yorick in particular, with his geeky knowledge and self-depreciating humour is simply a pleasure to spend a couple hundred pages getting to know. He's the sort of person you want as your best friend. Unfortunately, in a world where everyone else is a woman, I felt the women characters to be somewhat lacking. There's the ultra-cool badass secret service lady, known only as 355, who is assigned to protect Yorick, but she's so mysterious I found it hard to connect with her. There's also the geneticist, Doctor Mann, but we also don't learn much about her, besides the fact that she's been doing a lot of research on cloning. These two women become Yorick's protectors, traveling companions, and friends as they set out on a trek across America. Luckily, we start learning more about these two characters in Volume 2. Over the course of our heroes journey, they are forced to face any number of gun toting crazy women - including the "Amazons" a group of violent lesbian pagan types who believe the death of all men was the will of Mother Earth and are willing to kill anyone who disagrees. While there would of course be violent women and gangs out there even in world without men, did they have to be pagan lesbians? A bit offensive/stereotypical, I think. Pia Guerra's artwork is excellent - it remains consistently good, solid with clear strong lines and enough detail to make every character and setting look distinct. And whatever problems I had with some aspects of the storyline, the rest was good enough/interesting enough that I kept turning the pages to see what would happen next. So, despite my criticisms, I really do think this is a good series, and I'll keep reading it to see how things turn out for Yorick and his friends. 3/5 stars.
Review by burnit99
16/06/2015
Book One: Unmanned. This begins a highly unusual and intriguing graphic novel series in which twenty-something Yorick Brown, unemployed English Lit major, amateur magician and escape artist, son of a congresswoman, is hanging upside down practicing strait jacket escapes and proposing to his girlfriend Beth by phone, who is across the world in the Australian outback, at the exact moment every male member of the human race (and all mamallian species) suddenly dies of some unknown scourge. For some reason Yorick and his capuchin monkey Ampersand are immune. Yorick makes his way to Washington D.C. to rejoin his mother, who is helping defend the White House from something worse than terrorists: Republicans. From there, Yorick and Agent 355 and biogeneticist Dr. Mann (all females, of course, except for Yorick and Ampersand) make their way to Dr. Mann's lab in California to begin her research into what caused the gendercidal plague, how Yorick and Ampersand survived, and if the human race can be saved from extinction. A very nicely done series with good, hip-to-pop-culture writing and decent artwork, with liberal seasoning of humor and irony. Nice to know that the world wouldn't suddenly become an earthly paradise if all the men suddenly disappeared.Book Two: Cycles. Yorick and company have a stayover in Marrisville, Ohio, where they are taken in by the former convicts of the nearby prison, and defend themselves against the men-hating Daughters of the Amazon, who number Yorick's sister Hero among their followers. Things go badly, and as Yorick and company prepare to leave we learn that there are two other men still alive, in orbit around the earth with a lady cosmonaut. I said it before, but this is a kick-ass series, replete with intrigue, pathos and humor.