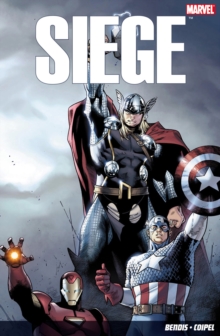 Information
Format: Paperback
Pages: 148 pages, 1 Illustrations, unspecified
Publisher: Panini Publishing Ltd
Publication Date: 15/07/2010
Category: Comics and Graphic Novels
ISBN: 9781846534522
Free Home Delivery
on all orders
Pick up orders
from local bookshops
Reviews
Showing 1 - 2 of 2 reviews.
So, Asgard is parked on top of Earth and Osborn is a tool, I mean, head of H.A.M.M.E.R and decides to lay siege to Asgard with the help of Loki and the rather frightening Sentry. I didn't really pay much attention to the Sentry until he sliced through someone like he was cutting up salami for a sandwich. At that point, this story commanded my full attention. And I enjoyed it a great deal too. I liked the artwork and there was plenty of action (and off their rockers characters – Norman, I'm looking at you).<br/><br/>I do like a storyline that is jam-picked with heroics and destruction and shady politicking and equally shady characters who then go and redeem themselves at the very last moment (Loki, looking at you). And Loki, why are you such an arse? Master of misrule that he is, you always suspect that anything he plans is going to go tits up because that's just the nature of this character – made to cause chaos, even his plans are unable to sustain cohesion. And he pays a hefty price for cocking up in this story. Still, that is one fine villein (don't do it, spellcheck, I mean it – so fine a villain, I had to go feudal on this word's ass). <br/><br/>I enjoyed this a great deal, though I do wish it had been a little longer – I imagine this story must have been contained in only a few issues when it came out – my graphic novel copy was certainly slimmer than I wanted it to be. Could have done with way more Cap, Thor and Stark.<br/>
Review by aadyer
16/06/2015
A good collection of stories around a pretty apocalyptic event. This is Marvel history in the making. Good but not outstanding art, & the same could be said of the script as well. Fun & intriguing, but not quite got the depth that you'd want. Some ore cross over events have had deeper plots.