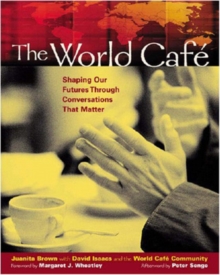 The World Cafe: Shaping Our Futures Through Conversations That Matter
Paperback
Description
The World Cafe process has been used by tens of thousands of people around the world to tackle real-life issues. Based on seven key principles, it begins with small, intimate conversations at Cafe -style tables; these gatherings then link and build on each other as people move between groups and cross-pollinate ideas. In this way, Cafe learning enables even very large groups to think together creatively in a single, connected conversation. This complete resource explains the Cafe concept and provides readers with the tools they need to get started. Each chapter opens with stories from business, education, government, and community organizations, each a dramatic example of how leaders are using this process in the real world. Such stories underline the Cafe 's immediate, practical implications for meeting and conference design, strategy formation, knowledge creation, and large-scale systems change. The book includes a foreword by best-selling author Margaret J. Wheatley, an afterword by author Peter Senge, and real-world stories of the Cafe process in action at Hewlett-Packard, the nation of Singapore, and the University of Texas.
Information
Format: Paperback
Pages: 300 pages
Publisher: Berrett-Koehler
Publication Date: 01/05/2005
Category: Business & management
ISBN: 9781576752586
Free Home Delivery
on all orders
Pick up orders
from local bookshops
Reviews
Showing 1 - 1 of 1 reviews.
Review by dmcolon
16/06/2015
World Cafe is one of those books that I didn't really enjoy reading, but did love the message. The basic premise is centered around developing meaningful conversations on "questions that matter". The book discusses the necessary principles to developing these conversations and then lays out some of the logistical steps one can use to get at those discussions. It's almost more of a how-to book than anything else and I guess I didn't expect that.The methods used aren't really revolutionary on the surface, but I suspect that they could be extraordinarily effective. The goal is to have engaged conversations that get things done. As an administrator, that can be one of the hardest tasks imaginable. It's pretty easy coming up with ideas, but to get engagement, well that's another story.I haven't used World Cafe yet and haven't really seen it in practice, but I'm eager to do so in the very near future.