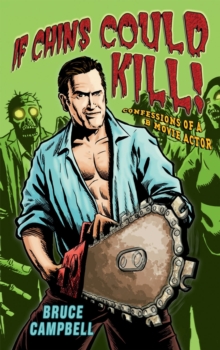 If Chins Could Kill
Paperback
Description
Most Hollywood biographies are little more than 500-page musings on the 'when-I-met...' theme, filled with famous names, love affairs and cliches of a 'meteoric rise' or 'tragic fall'.
Bruce Campbell's If Chins Could Kill: Confessions of a B Movie Actor is the boisterous antidote to such convention.
Campbell is the ultimate 'B' Movie actor. Star of the cult Evil Dead trilogy, with a CV that ranges from buddy Sam Raimi's Spider-Man, through The X-Files and Xena: Warrior Princess, to the less-than-glamorous Aqua Teen Hunger Force Colon Movie Film for Theaters, you've probably never heard of him.
But his is one heck of a story! The popularity of Bruce, the cult hero of cable TV and Hollywood's second rung, is burning brighter than ever, his legion of fans undiminished after over thirty years.
Insightful, encouraging and brilliantly funny, If Chins Could Kill! is a brilliant place to start for those unfamiliar with his work.
For everyone else, it acts as a wonderful reminder for just why they fell in love with him in the first place.
Free Home Delivery
on all orders
Pick up orders
from local bookshops
Reviews
Showing 1 - 1 of 1 reviews.
So. Awesome. <br/><br/>I have little to no interest in the lives of actors or their biographies and as much as I like Bruce Campbell, I had no intention of reading his biography either, but it found its way into my hands and I was pretty much hooked from the get go. Bruce Campbell has a great laid back charm, dry wit and refreshingly honest take on the world of acting, or at least his place in it. Though I chuckled my way through a lot of this book, I also found myself admiring this actor a lot for his hard work. Also, this book confirmed what I've always kind of known. Bruce Campbell is a pretty damn cool guy.