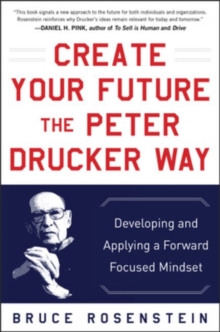 Create Your Future the Peter Drucker Way: Developing and Applying a Forward-Focused Mindset
Hardback
Description
YOUR FUTURE BEGINS TODAYYou can dream it. You can plan it. You can try to make it happen. But you can never really prepare for the future unless you have a future-focused mindset.
That is the underlying message behind the inspiring words and wisdom of Peter Drucker, the legendary "father of modern management." Drucker believed that the future must be created--day by day, person by person--rather than be left to chance or fate. This powerful book by Drucker scholar and author Bruce Rosenstein incorporates the master's time-tested principles into a step-by-step daily plan that will change your life forever.
Starting right now, you can:Create a future-focused mindset.
Learn how to build a better tomorrow by taking steps today.Determine the future by what hasalready happened.
Look for clues in the past to forecast the future.Become your own successor.
Keep yourself in demand and in control of your destiny.Shape the future of your organization.
Go beyond the planning stage and create real change.Build your future beyond your currentworkplace.
Identify challenges and opportunitiesin all aspects of your life. Whether you're a recent college graduate faced with a difficult job market, an ambitious entrepreneur trying to anticipate the Next Big Thing, or a struggling executive weathering a storm of constant global change, Drucker's surprisingly timely approach to the future will guide youthrough anything the world throws at you. You'll discover creative techniques for rolling with the punches and landing on your feet, open-minded strategies for turning your ideas into action, and the latest tools for adapting to new technologies like social media and Internet marketing.
You'll find inspiring adviceand insights drawn from personal interviews with Drucker himself and some of the greatest business leaders of our time.
Most importantly, you'll develop your own exciting, forwardthinking approach to the future that willdramatically alter your life, inside and outsidethe office. This is how you take charge of your destiny. This is how you make your dreams come true. This is how to Create Your Future the Peter Drucker Way. PRAISE FOR CREATE YOUR FUTURE THE PETER DRUCKER WAY:"Rosenstein skillfully draws on both his own wisdom and that of his mentor to deliver a plan for individuals and businesses in creating a future rich in personal and professional success.
Leave your compass at home; all you need is Rosenstein's new book!" -- MARSHALL GOLDSMITH, million-selling author of the New York Times bestsellers, MOJO and What Got You Here Won't Get You There"Create Your Future the Peter Drucker Way presents Peter Drucker as a role model for designing and living your own future, beginning in the here and now.
Thebook has expanded my understanding of Drucker's work and I'm confident it will do the same for you." -- CHIP CONLEY, founder and former CEO of Joie de Vivre Hospitality; author of New York Times bestseller Emotional Equations"Rosenstein has opened the door to an important and often misunderstood area of Drucker's work--why an understanding of the future is so critical for our development as leaders.
It confirms my belief of a bright future ahead." -- FRANCES HESSELBEIN, President and CEO, The Frances Hesselbein Leadership Institute"In this concise and compelling book, Rosenstein provides a unique contribution: mining the nuggets of Peter Drucker's most important work about the future andpresenting them in a brief, accessible format.
Bruce is the ideal person to make Peter's work useful and valuable in this way." -- BOB BUFORD, Chairman Emeritus, Board of Advisors of The Drucker Institute; author of Halftime
Other Formats
EPUB from £23.52
eAudiobook MP3 from £13.49
Free Home Delivery
on all orders
Pick up orders
from local bookshops