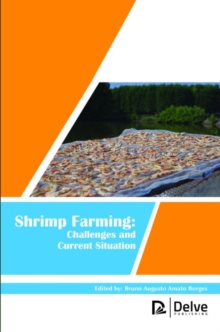 Shrimp Farming : Challenges and Current Situation
Hardback
Description
Since the emergence of the shrimp farming worldwide, there is a growing concern with the use of resources and the search for optimization of the cultivation and commercialization processes.
With the increasing demand of this source of food, it becomes necessary the intelligent use of resources with the objective of an activity the most sustainable as possible, minimizing losses, expenses and unnecessary costs to the production. The cultivation of aquatic organisms, including the shrimp got their start there are centuries of extensive way, using the tidal variation and sieges to trap the organisms. .
In the mid-70 such knowledge began to popularize in other countries.
Since then, several surveys were carried out in search of a better understanding of the biology and cultivation of prawns.
Among them include works about nutrition, food management, reproduction, support capacity, productivity, and genetic improvement, among others.
All this work is making growing increasingly feasible and economically interesting. It can be said that the cultivation of shrimp is a relatively recent activity when compared with other food sources, such as agriculture, cattle and hogs.
As in any activity, there are numerous problems and challenges that must be faced to promote a suitable development.
It is up to the technicians and specialists get the evolution and development of new methods and technologies that minimize the use of resources by getting the same result.
Thus, we can see how hard it is making decisions about what if when there is interest in starting shrimp cultivation commercially.
Several factors must be considered for the elaboration of the project.
The term sustainability is gaining enough space over the last decade and has been inserted into some new ventures in a variety of ways.
In aquaculture, one should opt for the cycling and reuse of effluent nutrients of cultivation, the lowest possible use of water (through different systems of cultivation), deployment in that area do not undermine the local ecosystem, among other decisions aimed to avoid losses, waste land unnecessary spending. I believe today, that the overall trend is to think more about starting a sustainable activity responsibly, in search of producing safe and healthy food for generations.
This book is geared for professionals and researchers, as well as connoisseurs of the subject who seek knowledge about the main challenges of the cultivation of shrimp in the world, in addition to the current perspective and situation in which the activity is made.
Information
Format: Hardback
Pages: 275 pages
Publisher: Arcler Education Inc
Publication Date: 01/11/2017
ISBN: 9781773610375
Free Home Delivery
on all orders
Pick up orders
from local bookshops