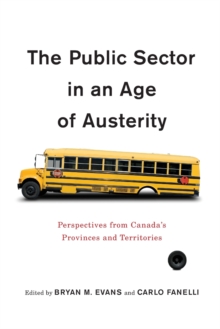 The Public Sector in an Age of Austerity : Perspectives from Canada's Provinces and Territories
Paperback / softback
Description
Following the 2008 global financial crisis, Canada appeared to escape the austerity implemented elsewhere, but this was spin hiding the reality.
A closer look reveals that the provinces - responsible for delivering essential public and social services such as education and healthcare - shouldered the burden. The Public Sector in an Age of Austerity examines public-sector austerity in the provinces and territories, specifically addressing how austerity was implemented, what forms austerity agendas took (from regressive taxes and new user fees to public-sector layoffs and privatization schemes), and what, if any, political responses resulted.
Contributors focus on the period from 2007 to 2015, the global financial crisis and the period of fiscal consolidation that followed, while also providing a longer historical context - austerity is not a new phenomenon.
A granular examination of each jurisdiction identifies how changing fiscal conditions have affected the delivery of public services and restructured public finances, highlighting the consequences such changes have had for public-sector workers and users of public services. The first book of its kind in Canada, The Public Sector in an Age of Austerity challenges conventional wisdom by showing that Canada did not escape post-crisis austerity, and that its recovery has been vastly overstated.
Information
Format: Paperback / softback
Pages: 432 pages
Publisher: McGill-Queen's University Press
Publication Date: 23/07/2018
Category: Public administration
ISBN: 9780773553354
Free Home Delivery
on all orders
Pick up orders
from local bookshops