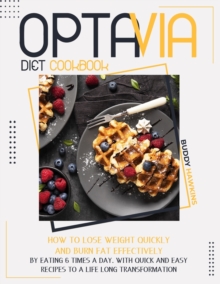 Optavia Diet Cookbook : How to Lose Weight Quickly and Burn Fat Effectively by Eating Six Times A Day. With Quick and Easy Recipes to A Life-Long Transformation
Paperback / softback
Description
Are you tired of wasting time with the usual diets?
Do you finally want to start a diet that brings you long-term results?
I will introduce you to the optavia diet; this is a diet that will help you to lose weight by eating more than thrice a day. You can lose weight through portion-controlled snacks and meals. There are many different programs that control weight loss in this diet plan. The programs have different strategies and tips that are used to control weight loss that fits you the best. You can have plans for seniors, teens, and diabetic patients and get that enviable body that you have desire you. Although the diet program was funded by Medifast, there was an improvement in the different programs that constitute the Octavia diet program. A lot of research has been held on the diet, and many results have shown that the diet program is very effective, and there is a good chance of rapid weight loss. The optavia diet is heart-healthy and has many benefits in the weight loss process.
In this book, you will learn about the tips for keeping a good healthy relationship with food and you will get to learn the healthy recipes that will help you to lose weight in 6 days. You will come across with very interesting and delicious recipes in this book that will change your life. The book explores the processes in all the programs and how to reset your metabolism to achieve better body weight. The Optavia diet is very effective, and it can help you to get that enviable body you have craved even by eating more in a single day.
You'll learn:
✅ All About the Optavia Diet
✅ The Ways of Keeping a Good and Healthy Relationship with Food
✅ Optavia Diet Recipes for your everyday enjoyment
What makes this book special?
Even if you find it hard to try out diet books, so maybe you can prefer supplements and drugs and you can learn the tips and strategies for losing weight in 6 days.
"Would You Like to Know More?"
"Download Now"
"Scroll to the Top and Click the Buy Now Button and Enjoy This Amazing Journey"
Information
Format:Paperback / softback
Pages:86 pages
Publisher:Buddy Hawkins
Publication Date:31/10/2020
Category:
ISBN:9781801185455