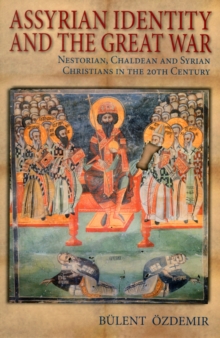 Assyrian Identity and the Great War : Nestorian, Chaldean and Syrian Christians in the 20th Century
Paperback / softback
Description
'I agree with Professor Ozdemir that there was no genocide of 'Assyrians', but a total migration of Nestorians (with attendant casualties), and a gradual and partial migration of Syrian Monophysites and Uniates, with fewer casualties'.
Dr. Andrew Mango, author of Ataturk: the Biography of the Founder of Modern Turkey Until the beginning of the 19th century, Nestorians, Chaldeans and Syrian Christians, belonging to various different branches of Eastern Christianity, lived as small, little-known communities within the eastern provinces of the Ottoman Empire.
This book examines the situation of these Eastern Christians during the First World War using a wide range of Western and Ottoman archival sources. At the outbreak of the First World War, the Nestorians, Chaldeans, and Syrian Christians found themselves trapped in the middle of the struggle between the Ottoman Empire and the Entente powers.
The Syrian Christians and Chaldeans remained faithful to Ottoman rule and were generally quiescent during the war, while the Nestorians, encouraged by Russia, entered the war as the Entente powers' 'smallest ally'. The Eastern Christian communities appeared on the stage at the most critical period of the First World War, and left a tragic story behind them.
Owing to modern claims that a mass murder or 'genocide' of the Nestorians and Syrian Christians was committed during 1915, the issue is no longer obscure and has become an international historical and political problem.
This book presents interesting new historical material and provides a fascinating perspective on this issue for all scholars and students of Middle Eastern history and geopolitics that is relevant to the regional situation today.
Information
Format: Paperback / softback
Pages: 192 pages, illustrated
Publisher: Whittles Publishing
Publication Date: 14/11/2012
Category: Middle Eastern history
ISBN: 9781849950602
Free Home Delivery
on all orders
Pick up orders
from local bookshops