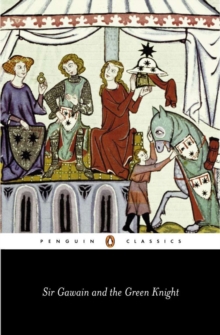 Sir Gawain and the Green Knight
Paperback
Description
A New Year's feast at King Arthur's court is interrupted by the appearance of a gigantic Green Knight, resplendent on horseback.
He challenges any one of Arthur's men to behead him, provided that if he survives he can return the blow a year later.
Sir Gawain accepts the challenge and decapitates the knight - but the mysterious warrior cheats death and vanishes, bearing his head with him.
The following winter Gawain sets out to find the Knight in the wild Northern lands and to keep his side of the bargain.
One of the great masterpieces of Middle English poetry, Sir Gawain and the Green Knight magically combines elements of fairy tale and heroic sagas with the pageantry, chivalry and courtly love of medieval Romance.
Information
Format: Paperback
Pages: 176 pages
Publisher: Penguin Books Ltd
Publication Date: 29/07/1982
Category: Poetry by individual poets
ISBN: 9780140422955
Free Home Delivery
on all orders
Pick up orders
from local bookshops
Reviews
Showing 1 - 2 of 2 reviews.
Review by cmbohn
16/06/2015
I'm so glad I got a chance to read this one. It took a while, but it was totally worth it. I love this story!
Review by andreablythe
16/06/2015
During holiday festivities in King Arthur's court, a mysterious green knight appears with a challenge: any knight of Arthur's court may strike the green knight a blow, and the green knight will return the strike in a year's time. The only knight brave enough to face the challenge is young Gawain, who indeed strikes the green knight, chopping off his head. Unperturbed, the green knight picks up his head and tells Gawain to find him in a year's time in order to receive the return blow. Sir Gawain and the Green Knight, written by an unknown fourteenth-century poet, is my favorite of the classic Arthurian tales (so far). The story is vivid and full of gorgeous contrasts, love and death and trust and renewal. The story unfolds with good pacing and entertaining adventures with true courtly manners, all without being redundant or dull (as some unnamed fourteenth-century Arthurian romances can be).Armitage's translation from the Middle English focuses on the alliterative and poetic structure of the original, rather than being a literal translation. The Middle English version appears on the left hand page with the Modern version on the right, so the reader can compare and see the differences. For the most part his version is surprisingly readable with beautiful phrases and imagery, though in some cases it strays into being a bit too modern (at one point Arthur is described as "keeping his cool"), which can be jarring. My second reading was just as enjoyable as the first, and I would love to add it to my library.However, since Arimitage's is only the only translation I've read, I'm very curious about trying a more literal translation. Apparently, even J.R.R. Tolkien did a translation, and I'd love to read that. For audio book lovers, I highly recommend the audio version of Armitage's translation, which is read by Bill Wallis. He does an amazing job highlighting the alliterative aspects of the text, while making it easy to follow. Once the Modern English translation is finished, Wallis then does an amazing reading of the original Middle English version of the book. It's amazing to hear and I found myself understanding more than I thought I would. Fantastic.