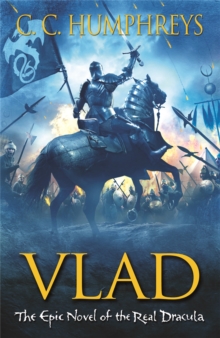 Vlad: The Last Confession : n/a
Paperback
Description
A superb gothic novel about the real Vlad the Impaler - one of history's greatest psychopaths or a hero of the West?
Perhaps both...DRACULA. A name of horror, depravity and the darkest sensuality.Yet the real Dracula was just as alluring, just as terrifying, his story not of a monster but of a man - and a contradiction.
For the one they called 'The Devil's Son' was both tyrant and lawgiver, crusader and mass slaughterer, torturer and hero, lover and murderer.His tale is told by those who knew him best.
The only woman he ever loved, who he must sacrifice.
His closest comrade and traitor. And his priest, betraying the secrets of the confessional to reveal the mind of the man history would forever remember as Tepes - 'The Impaler'.
But Vlad's actions defy such labels. His extraordinary life burns with passion, taking him from his years as hostage to the Turk, through torture, battle, triumph and betrayal, ultimately to a last crusade - there perhaps, beneath the twin banners of the Dragon and the Cross, to find redemption for his innumerable sins.
Information
Format: Paperback
Pages: 464 pages
Publisher: Orion Publishing Co
Publication Date: 11/02/2010
Category: Historical fiction
ISBN: 9781409103301
Free Home Delivery
on all orders
Pick up orders
from local bookshops
Reviews
Showing 1 - 3 of 3 reviews.
Review by DorianG
16/06/2015
The story of the true Dracula, a charismatic 15th Century warlord who fought for honour, family and Christendom. A stunningly constructed novel about Dracul-a, son of Dracul, who was also known as the Impaler Prince. Not a novel for the faint hearted and as the cover rightly says, not for reading at bedtime! A must read for historical fiction lovers, and a face paced and well researched book.
Review by nicky_too
16/06/2015
This book I bought on a whim. You know how that goes. It looks interesting for some reason and without reading any of it you just end up buying it. It must be fate (which is interesting in itself if you've read the book). ;-)This book took me totally by surprise.I am interested in the historical Dracula, Vlad Tepes, and then why not read a historical novel about the man? In the author's notes at the end of this book C.C. Humphreys explains how the process was and what the intentions were at the start. Very enlightening, I think.I have to say the book is very well written. How else can I explain the fact that I actually feel sympahty for a man who by no means was a nice person at all? At least, he's not seen as 'nice' if you look at his deeds. Of course that says nothing about his character.To cut a long story short: this is a fantastic book and I would recommend it to everyone.
Review by MarysGirl
16/06/2015
This is one of those hard books to review. I picked up the bargain ebook because I had seen some good buzz about it here or on another forum, my ereader was new and itching for content and it was on sale. It sat in the TBR section for several months because the time and place were not my favorites (I was "stretching" when I bought the book) and newer, shinier books kept bumping it back. I finally took the plunge while on a trip. I read it sitting around airports and on the plane, but it never quite grabbed me. The story is about Vlad Dracula--The Impale--and I thoroughly enjoyed the craft of the writing. Humphreys is a solid writer. I particularly appreciated the framing story where--after his death--three intimates of the infamous Dracula (his best friend, his mistress and his confessor) were brought together to tell their stories in an effort to combat the propaganda being spread by his enemies. The narration is smoothly integrated with occasional visits to the "present" where third parties fill in background and detail--very clever. My only quibble with the writing was the twist at the end, which I didn't feel worked. I also appreciated learning more about this historical character, but suspect I would have enjoyed one of the non-fiction books mentioned in the end notes more. In the end, the characters didn't pull me into the story, nor did the plot. There was a lot of graphic violence, but this is a tale about a man called "The Impaler" so I didn't expect different. I would have given it two stars for enjoyment, but bumped it up for good solid writing. Others with an interest in this time period and character will find it more enjoyable.