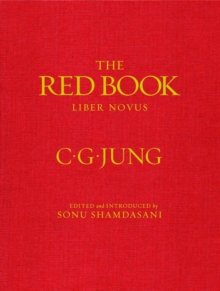 Description
"The years, of which I have spoken to you, when I pursued the inner images, were the most important time of my life.
Everything else is to be derived from this. It began at that time, and the later details hardly matter anymore.
My entire life consisted in elaborating what had burst forth from the unconscious and flooded me like an enigmatic stream and threatened to break me.
That was the stuff and material for more than only one life.
Everything later was merely the outer classification, the scientific elaboration, and the integration into life.
But the numinous beginning, which contained everything, was then." These are the words of the psychologist C.
G. Jung in 1957, referring to the decades he worked on The Red Book from 1914 to 1930.
Although its existence has been known for more than eighty years, The Red Book was never published or made available to the wide audience of Jung's students and followers.
Nothing less than the central book of Jung's oeuvre, it is being published now in a full facsimile edition with a contextual essay and notes by the noted Jung scholar Sonu Shamdasani and translated by Mark Kyburz, John Peck, and Sonu Shamdasani. It will now be possible to study Jung's self-experimentation through primary documentation rather than fantasy, gossip, and speculation, and to grasp the genesis of his later work.
For nearly a century, such a reading has simply not been possible, and the vast literature on his life and work has lacked access to the single most important document.
This publication opens the possibility of a new era in understanding Jung's work.
It provides a unique window into how he recovered his soul and constituted a psychology.
It is possibly the most influential hitherto unpublished work in the history of psychology.
This exact facsimile of The Red Book reveals not only an extraordinary mind at work but also the hand of a gifted artist and calligrapher.
Interspersed among more than two hundred lovely illuminated pages are paintings whose influences range from Europe, the Middle East, and the Far East to the native art of the new world.
The Red Book, much like the handcrafted "Books of Hours" from the Middle Ages, is unique.
Both in terms of its place in Jung's development and as a work of art, its publication is a landmark.
Free Home Delivery
on all orders
Pick up orders
from local bookshops
Reviews
Showing 1 - 5 of 6 reviews.
Previous | Next
Review by VisibleGhost
16/06/2015
Wow! Just wow and wow again. Let me 'splain, Lucy. If you're looking for a book about Jung's life or his career, or his writing canon this isn't the book. It's a reproduction of his 'red book', a journal of words, calligraphy, illumination, and artwork, produced in the years 1914 to 1930. It weighs ten pounds, has a list price of $195.00 US, is huge, and about as portable as an iron lung. It's gorgeous though. It's akin to a middle ages 'book of hours'. The first half is a wonderful digitally accurate scan of the work. There's a video on YouTube on how the book was made. The second half is an English translation of the work. Jung never finished The Red Book and left ambiguous instructions in his will on what should happen to it. Luckily for us, it's made its way to bookstores.
Review by andrewcorser
16/06/2015
This is a book to cherish and pore over and come back to again and again - the only problem is that it is so beautiful, you don't want to spoil it, and it is so physically substantial it needs a mediaeval lectern to read it on!The mandalas are lovely.Now to face the shadow!
Review by thatguynate
16/06/2015
A truly monumental release. Written by Jung over the course of over a decade, painstakingly rewritten and annotated and revised throughout some of his most personal and critical years, the Red Book presents the dreams, visions, reflections and experiences that helped form some of Jung's most important theories. A gigantic tome with expert introduction and commentary by a world renowned Jungian scholar, this book was long held out of the public eye as it is the most personal, piercing look into the mind and soul of one of the most influential psychologists of all time. Beautifully compiled into a folio sized, illuminated manuscript style, the text is accompanied by Jung's own artwork, as he believed that representing, reproducing and pondering the symbols of his visions was paramount to understanding them and becoming the most developed he could.Excellently translated and presented, this could well be one of if not the most influential books to be published in many, many years. A bit difficult to digest due to its complexity and the depth of the author's knowledge, the Red Book none the less is a critical work for anyone interested in understanding the depths of their mind, soul, and the collective psyche of humanity.
Review by brittneydufrene
16/06/2015
I doubt I could do justice to this work in the way that a serious student of Jung's work could, but want to say it is magnificently produced, with Jung's original manuscript carefully reproduced, as well as an English translation and commentary providing historical and cultural context. The Red Book demonstrates, in magnificent, poetic words, and breathtaking, unforgettable imagery, nothing less than the Process of Self-transformation, of Individuation.
Review by vpfluke
16/06/2015
This is quite a book that I was able to check out of the Levittown Library and able to peruse. This is a manuscript that Jung worked on from 1914 to 1930 setting down or, better yet, recreating his visions including much from his inner dream life. This facsimile is almost like a medieval manuscript with many hand drawings, beautiful in color. The first letter of each chapter is illustrated. The first letter D shows a vision of quite village sitting by a lake, somewhat dominated by a church with a steeple. The D itself is in red and sits on top of the water. In the lower left of the red an an urn with flames bursting upwards -- out of the flames is a long serpent with a crowned head. Although the sky within the D is in daylight cloudy day, the sky above the letter D is dark, suggesting night, with a crescent moon not too far away from the crown on the snake's head. A guiding star exists on the upper right. The lower part of the picture seems to depict the strange plants and animals that one might find on an ocean floor.I write this descirption to give you a sense of the first quarter of the first page of this book. The title in German for this beginning chapter is Der Weg des Komenden (The Way of What is to Come). But then there is a long quote from Isaiah (53:1-4) in Latin. And then Isaiah 9:6, John 1:14, Isaiah 35:1-8. On page two Jung starts his German text. Each sentence begins with a red letter and the whole volume is beautifully lettered.There are larger illustrations throughout the book covering most if not all the page, and they are a treat to look at and try to understand. They have a quality of the Mandala to them. There is some Greek in the volume, some pieces of dialogue, as well as poetry. This is a book, huge as it is, to savour