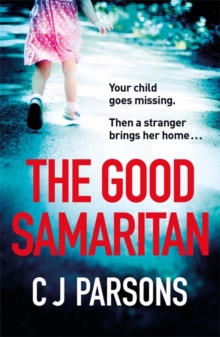 The Good Samaritan : A heart-stopping and utterly gripping emotional thriller that will keep you hooked
Paperback / softback
Description
As Carrie's eyes adjusted to the gloom, she saw something on the blade and a vacuum opened up inside her, sucking away every particle of oxygen. Blood. The tip of the knife looked as though it had been dipped in it.
As she stared, a single drop fell, leaving a red comma shape on the wood-laminate flooring. What has he done to Sofia?When her five-year-old daughter disappears from the park, Carrie's world shatters.
She is tortured with worry and she blames herself. What if her inability to read facial expressions has put her child in danger?But just days later, a stranger finds Sofia and brings her home. Carrie should be relieved, but the abductor is still out there, still unknown.
Still after her child. And are those who have offered their help really the good Samaritans they seem... or has Carrie missed the warning signs?'Compulsive, scary and breathtakingly original' (Dreda Say Mitchell) this gripping emotional thriller is perfect for fans of THE FAMILY UPSTAIRS by Lisa Jewell, PLAYING NICE by JP Delaney and THE OTHER DAUGHTER by Shalini Boland. READERS LOVE THE GOOD SAMARITAN:'Most spellbinding psychological thriller of the year!
I swear I forgot to breathe in parts!' ***** review'This is the first book in months which I haven't been able to put down' ***** review'Worth far more than five stars and very very highly recommended' ***** review'A tense twisty psychological thriller that will keep you guessing right up till the end!' ***** review'I was caught up in the suspense and literally couldn't put the book down' ***** review'A whopping 5 star read which had me gripped from start to finish, it is beautifully written and amazing' ***** review'This book was brilliant.
I was gripped from the very first chapter' ***** review
Information
Format:Paperback / softback
Pages:400 pages
Publisher:Headline Publishing Group
Publication Date:26/11/2020
Category:
ISBN:9781472276513