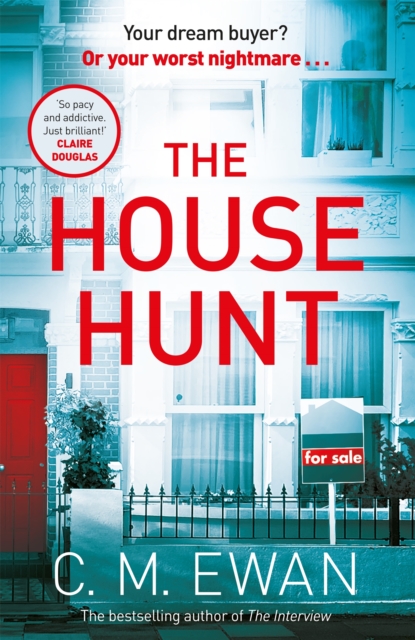 The House Hunt : A heart-pounding thriller that will keep you turning the pages from the acclaimed author of The Interview
Hardback
Description
'So pacy and addictive. Just brilliant!' – Claire Douglas, author of The Couple at No.9The House Hunt is a heart-pounding, claustrophobic thriller from C.
M. Ewan, acclaimed author of The Interview, A Window Breaks and the half-a-million-copy bestseller Safe House. Your estate agent calls. She's running late and needs you to show a man around your home. You let him in and begin the tour. But something about him feels wrong. . . You ask him to leave and he refuses. Then he tells you something about you. Something inconceivable. And then you realize. . . He doesn't want your house. He wants YOU. What authors are saying about The House Hunt:'The tension mounts with every chapter in this edge-of-the-seat, tense and twisty thriller.
Don't miss it!' – B. A. Paris, author of The Therapist'Truly impossible to put down' – Chris Whitaker, author of We Begin at the End'Be prepared to put everything else on hold until you've finished The House Hunt, because once it grips you it doesn't let go' – Jane Casey, author of Let the Dead Speak'Nobody does heart-thumping, dry-mouth, claustrophobic thrillers like C.
M. Ewan. The House Hunt is exceptional' – Sharon Bolton, author of The Pact'Unbearably tense, effortlessly plotted and packed with twists' – Tim Weaver, author of No One HomeWhat readers are saying about The House Hunt:'WOW WOW WOW !!
The twists in this story had my head spinning. I had no idea where it was leading. What a brilliant book''I lost so much sleep reading this book but it was so worth it.
Brilliant!''The twists and turns are superb and the ultimate unravelling very satisfying.
I loved it!'
Information
Format:Hardback
Pages:432 pages
Publisher:Pan Macmillan
Publication Date:31/08/2023
Category:
ISBN:9781035010684
Information
Format:Hardback
Pages:432 pages
Publisher:Pan Macmillan
Publication Date:31/08/2023
Category:
ISBN:9781035010684