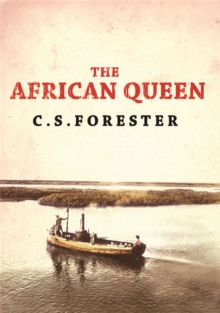 The African Queen
Paperback
Description
The film of this famous love and adventure story which starred Katharine Hepburn and Humphrey Bogart became one of the most popular films ever made.The African Queen is an old, dirty, ugly, unreliable steamboat - not the kind of boat anyone would take down a dangerous river through the jungles of Central Africa.
But Rose Sayer and Charlie Allnut do just that. Why do they do it? The First World War has just begun, and Rose has a crazy plan.
She and Charlie set off down the river and come close to death many times, but they survive all dangers - except the danger of falling in love.
Information
Format: Paperback
Pages: 192 pages
Publisher: Orion Publishing Co
Publication Date: 01/11/2006
Category: Thriller / suspense
ISBN: 9780753820797
Other Formats
Hardback from £7.39
EPUB from £5.99
Paperback from £8.00
Free Home Delivery
on all orders
Pick up orders
from local bookshops
Reviews
Showing 1 - 2 of 2 reviews.
Review by readerbynight
16/06/2015
The African Queen by C.S. ForesterWhat can I really say about the book The African Queen that isn't already well-known as an award-winning movie? Originally published in 1935, this exceptional book was fairly closely reproduced in the movie in 1951 with relatively minor changes, the most obvious being that the main male character, Charlie Allnutt, was (and is) written as a Cockney character, whereas Humphrey Bogart, who played the role, was unable to carry this accent off and the character was rewritten. The time period of the story is the WWI-era in what is now called Tanzania. This book is a wonderfully exhilarating and inspiring story of faith, craftsmanship, relationship and adventure; a veritable roller-coaster ride.The characters are very consistent in their growth and change, and Rose, the missionary's sister left alone in Central Africa when her brother dies, shows her true spunk, tenacity and passion previously hidden in the type of life she had led in the past. Allnutt also grows in creativity, strength of character, and realization of self. The combination is volatile, electric, and passionate by turns and the interaction plays out well. Rose's determination to "do her part for the Empire" so to speak, clashes with Allnutt's wish to remain alive. He knows the rivers and the delicate condition of his boat, African Queen. He also is aware that nothing except a canoe has ever even attempted to go down the miles of rapids and cataracts she is proposing to do in order to reach Lake Wittelsbach. This is where the German gunboat Konigin Luise is patrolling to keep the British from gaining access to the German colony in Central Africa. Her proposal includes the destruction of this vessel.Allnutt eventually agrees and with his engineering experience and handyman abilities, he decides that he after all can create torpedoes from items at hand. So begins the adventure of a lifetime. Malaria, torrential rains, lightning most nights, mosquitoes, flies and other insects in vast clouds around them, and damage to the boat, nothing gets in the way of their determination. I absolutely loved this book, the action, drama, excitement, and character was so complete, I almost felt myself running the rapids with them. Having loved the movie, I was surprised and delighted to find that the book had been reissued in 2006 and immediately purchased it. I am so glad I did. Once you get used to the cockney wording when Allnutt speaks, it reads beautifully. Adventure is definitely the most obvious, but the evolution of the characters is marvelous! I highly recommend this book for all the above reasons.
Review by DeltaQueen50
16/06/2015
The African Queen by C.S. Forester is a book that I have long wanted to read. Originally published in 1935, this is a memorial WW I story that takes part in a remote corner of the world. German East Africa comprised what is now known as Burundi, Rwanda and part of Tanganyika (now known as Tanzania). At the opening of the book the Germans have come to the mission of Rose and her brother Samuel and stripped the place of food and animals. The native people are conscripted and marched away, leaving Rose and her sick brother alone. Samuel succumbs to a fever but keeping Rose from being totally alone, Charlie Allnut, fleeing downriver from the Germans in a derelict boat called The African Queen arrives.Rose and Charlie bury Samuel and head off down the Ulanga River in the African Queen. He is thinking of hiding from the Germans in a remote backwater, while she is burning to strike a blow for England against Germany. Nothing will answer but that they travel down the perilous river and blow the German gun-boat that guards Lake Tanganyika, called Lake Wittelsbach in this book, to kingdom come. As they travel together, feelings arise and their mutual admiration of each other soon grows into love. As Rose is a forceful, determined woman she soon takes the place of leader and Charlie becomes her faithful, admiring assistant. Rose and Charlie are a wonderful pair of mis-matched people. Together they pilot the African Queen towards their goal. As Charlie puts it, "We've come along under steam, an' we've paddled, an' we've pushed, an' we've pulled the ole boat along with our hands." The author brings these two unique characters to life and through them sets a wonderful story in motion. One of my favorite reads of the year.