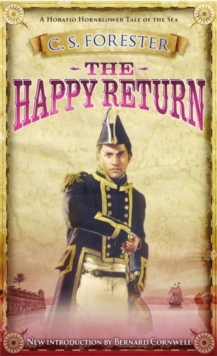 The Happy Return
Paperback
Description
June, 1808 - and off the Coast of Nicaragua Captain Horatio Hornblower has his hands full . . .Now in command of HMS Lydia, a thirty-six-gun frigate, Hornblower has instructions to form an alliance against the Spanish colonies with a mad and messianic revolutionary, El Supremo; to find a water route across the Central American isthmus; and 'to take, sink, burn or destroy' the fifty-gun Spanish ship of the line Natividad - or face court-martial. And as if that wasn't hard enough, Hornblower must also contend with the charms of an unwanted passenger: Lady Barbara Wellesley . . . This is the fifth of eleven books chronicling the adventures of C.
S. Forester's inimitable nautical hero, Horatio Hornblower.
Information
Format: Paperback
Pages: 304 pages
Publisher: Penguin Books Ltd
Publication Date: 01/09/2011
Category: Classic fiction (pre c 1945)
ISBN: 9780241955536
Free Home Delivery
on all orders
Pick up orders
from local bookshops
Reviews
Showing 1 - 1 of 1 reviews.
Review by AdonisGuilfoyle
16/06/2015
Bless you, Horatio, for inspiring the creation of Mr Roddenberry's starship captain, but I think I'll stick with Nathan Peake for any future sea adventures. There's only so much introspective gnashing of teeth, while the crew look on in admiration, that I can stomach! Seriously - Hornblower spends half the novel (Forester's first naval sortie, granted) pacing up and down the deck, beating himself up for a million imagined flaws, before snapping into gear and blasting the enemy ship out of the water. His attempt at appearing 'a strong silent capable man, unmoved by emotion' makes him more priggish than proud, and his 'sullen obstinacy' might be mistaken for sulking. I had more admiration for Lady Barbara, Hornblower's improbable shipboard dalliance!Forester's writing is easier to digest than Patrick O'Brian's, and I have already ordered the film version with Gregory Peck on DVD, but I found nothing endearing about Hornblower's constant fretting and pacing. I can see the parallels with Captain Kirk - stubborn determination blended with the loneliness of command, not to mention a cultured appreciation of literature (I'm talking the original Kirk here, not the reboot) - but not enough to maintain my interest, sadly. And the omniscient narrator, referring anachronistically to 'globetrotting' and Florence Nightingale, only served to distance me from Hornblower even more.
Also in the A Horatio Hornblower Tale of the Sea series | View all