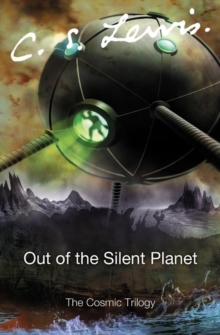 Out of the Silent Planet
Paperback
Description
The first novel in C.S. Lewis's classic sci-fi trilogy which tells the adventure of Dr Ransom who is kidnapped and transported to MarsIn the first novel of C.S.
Lewis's classic science fiction trilogy, Dr Ransom, a Cambridge academic, is abducted and taken on a spaceship to the red planet of Malacandra, which he knows as Mars.
His captors are plotting to plunder the planet's treasures and plan to offer Ransom as a sacrifice to the creatures who live there.
Ransom discovers he has come from the 'silent planet' - Earth - whose tragic story is known throughout the universe...
Information
Format: Paperback
Pages: 224 pages
Publisher: HarperCollins Publishers
Publication Date: 01/11/2005
Category: Science fiction
ISBN: 9780007157150
Other Formats
EPUB from £4.99
eAudiobook MP3 from £11.72
Free Home Delivery
on all orders
Pick up orders
from local bookshops
Reviews
Showing 1 - 5 of 6 reviews.
Previous | Next
Review by SandDune
16/06/2015
Professor Elwin Ransome, a philologist from Oxford University, is on a solitary walking tour in the English Midlands, when he encounters an old school acquaintance Devine, and his associate Weston. Rather than being offered a bed for the night, as he had hoped, he is drugged and kidnapped, and on waking finds himself on a spaceship bound for a planet called Malacandra, which Weston and Devine have visited before. Gathering from an overheard conversation that the two men mean to hand him over as some form of sacrifice to the less than friendly inhabitants of the planet, the sorns, he resolves to escape at the earliest opportunity. But fleeing from the sorns he encounters another of Malacandra's intelligent species, the hrossa, from whom he learns that Weston and Devine have misunderstood completely the nature of life on Malacandra, revealed as Mars. And when he is summoned by Oyarsa, the ruler of Malacandra, the reason why Earth is the silent planet is finally revealed.C.S. Lewis was one of my favourite writers as a child - I loved the Narnia books and this reminded me slightly of The Last Battle. In common with Lewis's other books this has religious or perhaps spiritual overtones but not excessively so. The book was written in 1938, so it is science-fiction more along the lines of H.G.Wells or Jules Verne, rather than anything more modern. Don't go looking here for any scientific accuracy, but it's a fun read and Malacandra is beautifully described. I'll definitely be reading the next book in the series.
Review by HankIII
16/06/2015
You ever start a book and it seems to hold great promise, so much promise that you'll know you will finish it and in a small part feel that you've obtained something positive from your reading of it?This novel by the reknown Mr. Lewis isn't it. It falls short because it stays so wrapped with description that it could very well be a description exercise in a high school creative writing class; this exhaustive description is needlessly spent, which is perhaps a good thing because once that's been exhausted or seems to be, Lewis introduces life forms with imaginative names, customs, and language--but these names all tend to become bogged down to the point of being partially indistinct--and slows the plot down to the point of feeling indifferent and garbled and finally, stagnant--which would explain why I didn't finish it even though it's a short book.ZZZZZZZZZZZZZZZZZZZZZZZZZZZZZZZZZZZZZZZZZ
Review by BooksForDinner
02/03/2016
Great early SF writing from the 40's by an author known far more for his Christian apologist writings and his Narnia series (which is pretty much an apologia itself). One of my favorite authors.Funny, started reading the second in the series immediately upon finishing this, lost it in a train station, and never replaced it to finish reading. Would like to finish the series someday.
Review by shanaqui
16/06/2015
I remember reading this, but it didn't make much impression on me.
Review by SteveKSmy
16/06/2015
C S Lewis is well known as the author of the magnificent Narnia Chronicles. He deserves equal recognition, however, for his Space Trilogy and his Screwtape Letters.<br/><br/><i>Out of the Silent Planet</i> is the first in the Space Trilogy. It is a wonderful piece of science fiction, with the description of Mars being outstanding, even if modern discoveries about our neighbour have changed our views. At the time it was written, Lewis could have been as accurate as any other in his view of the red planet.<br/><br/>The central character, Ransom, is entirely believable in his reactions and limitations. He represents "everyman", with his limited views and desires, essentially good - but only because of his normality. The two villains, Weston and Devine represent the two aspects of Humanity that most of us either despise or are at least suspicious of. Weston is the intellectual, the "brains" who will stop at nothing to see his ambitions satisfied, driven by scientific knowledge that has no emotional element whatsoever. Devine is the "exploiter", driven purely by greed - for money and power, wanting only to enjoy all that he desires - no matter the cost to others.<br/><br/>The denizens of Mars are also believable. The three intelligent species may be seen as representative of human "races", but here showing how their differences are accepted, even admired, and that harmony can, and should, exist between them. Then there are the "higher beings", the <i>eldila</i>, who might appear to inhabit Mars, but whose existence is far vaster than that, allowing them to inhabit the cosmos, wherein the planets are but specks. These eldila are entirely different to all other species, except in one important aspect - they are creations of Maleldil, the supreme being.<br/><br/><i>Out of the Silent Planet</i> can be read as a simple science fiction novel. However, it takes little effort to identify the true nature of the tale. Earth, the "silent planet", is isolated - a world under siege, a trap for rebel eldila. We can easily identify the eldila with angels, and Earth's are the fallen ones, led by the governing eldil (<i>Oyarsa</i>) of Earth, who is clearly Satan. While this might sound unappetising to some readers, I believe that the book, and its sequels, are well worth reading. The allegorical nature of the trilogy is no more burdensome than it is in the Narnia Chronicles.