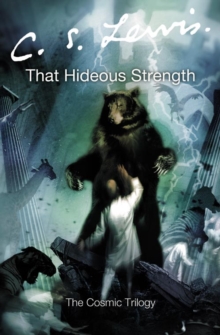 That Hideous Strength
Paperback
Description
The third novel in the science-fiction trilogy by C.S.
Lewis. This final story is set on Earth, and tells of a terrifying conspiracy against humanity. The story surrounds Mark and Jane Studdock, a newly married couple.
Mark is a Sociologist who is enticed to join an organisation called N.I.C.E. which aims to control all human life. His wife, meanwhile, has bizarre prophetic dreams about a decapitated scientist, Alcasan.
As Mark is drawn inextricably into the sinister organisation, he discovers the truth of his wife's dreams when he meets the literal head of Alcasan which is being kept alive by infusions of blood. Jane seeks help concerning her dreams at a community called St Anne's, where she meets their leader - Dr Ransom (the main character of the previous two titles in the trilogy).
The story ends in a final spectacular scene at the N.I.C.E. headquarters where Merlin appears to confront the powers of Hell.
Information
Format: Paperback
Pages: 544 pages
Publisher: HarperCollins Publishers
Publication Date: 05/12/2005
Category: Classic fiction (pre c 1945)
ISBN: 9780007157174
Other Formats
EPUB from £6.49
eAudiobook MP3 from £20.96
Free Home Delivery
on all orders
Pick up orders
from local bookshops
Reviews
Showing 1 - 3 of 3 reviews.
Review by Zathras86
16/06/2015
That Hideous Strength is very different from the two earlier books in Lewis's "Space Trilogy," but for the most part I found it enjoyable in a different way. As always Lewis has a spot-on grasp of character and I found it almost painfully easy to empathize with Mark's slow, unintentional slide into terrible company at the beginning of the novel. By choosing flawed, human protagonists, Lewis gets away from some of the problems of Perelandra. The morals are more subtly presented, and there is less pervasive hero-worship of Ransom since he has become a secondary character in this book. I continue to admire the sincere empathy with which Lewis exhibits towards the sinners in his novels; it is a far cry from the holier-than-thou tone taken by many religious authors, and the difference is a welcome one.
Review by Ameliaiif
16/06/2015
Hmmm, starting out with <i>Out of the Silent Planet</i>, I was relatively drawn in and interested in the premise...with <i>Perelandra</i>, things got a little more exciting...now with <i>That Hideous Strength</i>, I have to say I'm pretty weirded out. This last installment of Lewis' Space Trilogy was, as usual, heavily allegorical, but the actual "story" just didn't do it for me. I really liked the concept of N.I.C.E and The Head was pretty cool/weird, but everything else just didn't work. I think it may have to do with the fact that this book switches directions pretty sharply from the other two (Ransom is in this book, but he's certainly not the main character). The climax of the book was just bizarre and something I'd never expect to read from C.S. Lewis. Don't get me wrong, I like Mr. Bultitude, but I'm a little scared of him, too (and if you've read this book, you'll likely know why). Fairy Hardcastle was pretty interesting--she reminds me of Dolores Umbridge for some reason...but I just couldn't help but miss Weston! It doesnt seem like the Space Trilogy without him... Anyway, we got through half of this book in class, so the good news is that it really didn't take me very long to finish this...but unless you just really, REALLY like C.S. Lewis (which I do, by the way), I would consider skipping this series. It's okay, but certainly not NARNIA. Oh, and if you really want a good C.S. Lewis stand-alone book, check out <i>The Screwtape Letters</i>!
Review by LisaMaria_C
16/06/2015
I have a love/hate relationship with C.S. Lewis. There's a lot I admire in his writing but enough I deplore in his worldview that even though I keep being drawn to his works, I can't call him a favorite. I mostly loved <i>The Screwtape Letters</i> and <i>Narnia</i>, which I read as an adult, adored <i>Till We Have Faces</i> (my favorite Lewis work), was moved by his book <i>A Grief Observed</i> and found <i>Mere Christianity</i> and the first two books in the <i>Space Trilogy</i> interesting. There was only one book by him until this one that I had dropped mid-read because I found it just too exasperating--and that was <i>The Abolition of Man</i>. Significantly, he cites that book in the <i>Preface</i> saying he delineated in that essay the point he was making through fiction in this book. I noted in the first two books of the <i>Space Trilogy</i> that for all they might seem to fall into the science fiction genre, both books are actually anti-science fiction. In the first book <i>Out of the Silent Planet</i>, the hero, Ransom spoke of the purpose of the book as "a change-over from the conception of Space to the conception of Heaven." (And I prefer Space--greatly.) The thrust of the first two books is against the humanistic message of science fiction itself and the books decry the very idea of space exploration and colonization. That's very much a line that is continued in <i>That Hideous Strength</i>, but that isn't what caused me to put the book down deciding not to torture myself further. Yes, the anti-science, anti-technology line irked me. As did the evident contempt for all those who aren't believers in Christian orthodoxy--let alone atheists. And as an American and (small "r" and "d") republican and democrat I bristle at Lewis' evident fondness for the whole class system from how you address servants to the belief in the curtsy as an essential social skill to the love of monarchy--and what may seem quaint in that respect in <i>Narnia</i> just seemed at its most noisome here. But no, what really got to me was the attitude towards women. I've defended Lewis in reviews against those who have called him sexist based on <i>Narnia</i>. Truly, <i>Narnia</i> has wonderful heroines. Even compared in terms of current science fiction and fantasy what struck me was how important and strong were his female characters and how gender balanced were his cast of characters in a very testosterone-laden genre. But it really was just really too much in <i>The Hideous Strength</i>. The contempt heaped on "emancipated women," characters like Hardcastle that seem to signal that just being in an nontraditional profession for a woman means you're perverted and a fascist. And Jane. Oh, Jane. You know where I couldn't take it anymore? It was the "Pendragon" chapter. Here's two quotes: <i>She said at last, "I suppose our marriage was just a mistake."The Director said nothing."What would you - what would the people you are talking of - say about a case like that?""I will tell you if you really want to know," said the Director."Please," said Jane reluctantly."They would say," he answered, "that you do not fail in obedience through lack of love, but have lost love because you never attempted obedience."</i>And...<i>Jane said, "I always thought it was in their souls that people were equal.""You were mistaken," he said gravely. "That is the last place where they are equal. Equality before the law, equality of incomes - that is very well. Equality guards life; it doesn't make it. It is medicine, not food. You might as well try warming yourself with a blue-book.""But surely in marriage . . . ?""Worse and worse," said the Director. "Courtship knows nothing of it; nor does fruition. What has free companionship to do with that? Those who are enjoying something, or suffering something together, are companions. Those who enjoy or suffer one another, are not. Do you not know how bashful friendship is? Friends - comrades - do not look at each other. Friendship would be ashamed . . .""I thought," said Jane and stopped."I see," said the Director. "It is not your fault. They never warned you. No one has ever told you that obedience - humility - is an erotic necessity. You are putting equality just where it ought not to be.</i>No, just no. And yes, there were things I liked that make me wish I could tolerate this novel better. There's a reason after all I keep coming back to Lewis. He's a great writer with truly striking, shapely prose and at his best has a prodigious imagination and a winning sense of humor and a great way of infusing fiction with ideas--sometimes all too blatantly--but often brilliantly. Even here there were things I relished. His depiction of the process for instance by which Mark Studdock was corrupted was terrifically done. And I had to smile at the way he named his characters--very Dickensian. Some of those on the villain's roll included Lord Feverstone, Miss Hardcastle, Mr Frost, Withers, Steele, Curry. And you can't get better than the acronym for the sinister organization of baddies--N.I.C.E. And it's not as if I disagree with all of Lewis' message--the whole scenario of controlling humanity in the name of "Order" and scientific principle was chilling and resonated with me. I loved how Lewis was working in the Arthurian theme into a story set in mid-twentieth century England. And as I love the Arthurian genre, that was very much a highlight and it took a lot to finally break me away from that. But after that encounter between Jane and Fisher-King I thought it was time to part company before the urge to tear my book in half and start shredding the pages took hold of me--especially since this was about twice the length of the two earlier books. I couldn't imagine being able to get through the rest with my sanity intact.