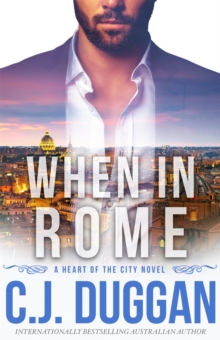 When in Rome : A Heart of the City romance Book 4
Paperback / softback
Description
The fourth standalone novel in C.J. Duggan's sassy and sexy HEART OF THE CITY series from the internationally bestselling author of the SUMMER and PARADISE series. Rome wasn't built in a day . . . but it's only going to take one for Sammi's world to crumble. How did a self-orchestrated gap year turn into a less-than-enthralling lifestyle as a couch potato at her parents' house?
Determined to get motivated and join life again, Sammi Shorten books a budget Bellissimo Tour to Rome, the Eternal City.
What she hadn't signed up for was being stuck with an eclectic group of binge-drinking foreigners in a bed-bug-infested hostel from hell.
Things in Rome really couldn't get much worse . . . could they? When plans go completely awry Sammi's left with only one option, and it's the one place she really doesn't want to turn - to the man who might very well get her into the worst trouble of all: the gorgeous local tour guide, Marcello Bambozzi. PRAISE FOR C.J. DUGGAN'S HEART OF THE CITY SERIES: 'Fun and sexy ...
Cheeky leading lady, dashing love interest, family complications and a fun setting - this book does have it all.' - Fictional Thoughts on London Bound 'I'm really glad that I've discovered C.J.
Duggan's novels - her writing is sassy and witty with strong female characters who are willing to take on anything, no holds barred.' - Sam Still Reading on New York Nights 'CJ continuously provides us with books that are easy to read and addictive, with exciting plots and characters you just can't help but love.' - Sweet Reading on Paris Lights 'A refreshing blend of sassy, sexy characters with an emotional backstory' - Scandalicious Book Reviews on New York Nights 'Great plot, interesting characters, secrets and romance, I didn't want it to end.'- Gems Book Nook on New York Nights 'Delightful read that I could not put down because of the banter between these two that made for really strong chemistry' - Book Magic on London Bound 'Laughs and tears, and a whole lot of sexual tension, Jack and Kate are just adorable and sweet and sexy' - BJ's Book Blog on London Bound 'With a C.J.
Duggan book, you know what you are getting - romance, adventure and that good fuzzy feeling at the end of it all.' - Hannah Plus Books
Information
Format: Paperback / softback
Pages: 336 pages
Publisher: Hachette Australia
Publication Date: 28/11/2017
Category: Romance
ISBN: 9780733639548
Also in the A Heart of the City romance series | View all