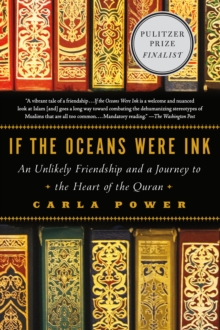 If the Oceans Were Ink
Paperback
Description
If the Oceans Were Ink is Carla Power's eye-opening story of how she and her long-time friend Sheikh Mohammad Akram Nadwi found a way to confront ugly stereotypes and persistent misperceptions that were cleaving their communities.
Their friendship-between a secular American and a madrasa - trained sheikh - had always seemed unlikely, but now they were frustrated and bewildered by the battles being fought in their names.
Both knew that a close look at the Quran would reveal a faith that preached peace and not mass murder; respect for women and not oppression. And so they embarked on a yearlong journey through the controversial text.
A journalist who grew up in the Midwest and the Middle East, Power offers her unique vantage point on the Quran's most provocative verses as she debates with Akram at cafes, family gatherings, and packed lecture halls, conversations filled with both good humour and powerful insights.
Their story takes them to madrasas in India and pilgrimage sites in Mecca, as they encounter politicians and jihadis, feminist activists and conservative scholars.Armed with a new understanding of each other's worldviews, Power and Akram offer eye-opening perspectives, destroy long-held myths, and reveal startling connections between worlds that have seemed hopelessly divided for far too long.
Free Home Delivery
on all orders
Pick up orders
from local bookshops
Reviews
Showing 1 - 5 of 10 reviews.
Previous | Next
Review by markon
16/06/2015
I found <i>If the oceans were ink: an unlikely friendship and a journey to the heart of the Quran</i> by Carla Power a rich description of the year the author spent studying the Quran and Muslim faith with a conservative Indian sheikh.Power describes herself as a secular feminist with a Jewish and Quaker background. Sheikh Muhammad Akram Nadwi is a scholar at the Oxford Centre for Islamic studies, and in addition to his academic duties is a practicing Muslim who lectures at mosques and madrassas around England. He began his studies of the Quran in his village in Uttar Pradesh and was trained academically at Nadwat al-Ulama in Lucknow, India.Power, who writes about politics and Islam, chose to study Quran and Islam for a year to focus on the spiritual practices of Islam, which are usually ignored in western media. She chose to study with Nadwi because• he's from a traditional madrassa,• he's trained academically at a non-Western university,• he's a Muslim consulted on matters of faith and practice by non-academic Muslims,• Power and Nadwi have known each other for over 20 years.This book will not appeal to people who want a quick introduction to Islam or easily comparisons of "Western" and "Islamic" society. It assumes some basic knowledge of Islam, and does not provide a complete picture of either Power or Nadwi, but rather focuses on the study of Quran and the practice of Muslim faith as Nadwi embodies and teaches it.It is a complex portrayal of a conversation about how reading and studying the Quran influences the practices of Muslim faith in one person's actions and teaching. As such I found it a fascinating and quick read.
Review by bks1953
16/06/2015
Carla Power has written an engaging and thought-provoking book. "If The Oceans Were Ink" discusses and examines the two decades' professional collaboration and friendship between Ms. Powers and Sheikh Mohammad Akram Nadwi, an Islamic scholar in residence at the Oxford Centre for Islamic Studies. In four parts comprising sixteen chapters, Powers and Akram "set off on a yearlong journey through the text [of the Quran]." From academic,religious, cultural, social, feminist, and world lenses, the journalist and the scholar explore the perceptions, moored, and myths that have affected their two cultures for centuries. What impressed me most about "Oceans" is how it has generated thoughtful discussion with whomever I have discussed it with. Highly recommended.
Review by knittingmomof3
16/06/2015
If The Oceans Were Ink by Carla Power is a deep and honest look into the year Carla, a secular American, spent with her friend Sheikh Mohammad Akram Nadwi, a madrasa-trained sheikh, spent looking at the teaching of the Quran in hopes of overcoming stereotypes and misconceptions. The year they spend together going over the sacred texts, debating verses, and their discussions from family gatherings to lecture halls, along with their travels and encounters along the way, lends a powerful look at understanding each other's world views and their hopes to dispel myths on both sides and rather show how we are more alike than different. If the Oceans Were Ink is an exceptional work of non-fiction, which offers up knowledge to digest and to discuss with others.
Review by marilynsantiago
16/06/2015
I think this is a great book. Could not put it down and all I did was read for 2 days.The author, Carla Power spends a year learning from her friend Mohammad Akram Nadwi, a madrasa-trained sheikh. She learns how the Quran and his faith guides his life. People who are afraid of the Islamic faith can learn much from this book and come away with a great appreciation and some understanding of one of our world's great religions.
Review by tnilsson
16/06/2015
Carla Power is a Jewish-American woman who spent portions of her childhood in Tehran, Kabul, Delhi, and Cairo, obtained a degree in Middle Eastern Studies from Oxford, helped to map the spread of Islam through Asia while at the Oxford Center for Islamic Studies, and ultimately found a career as a foreign correspondent and author. Her book, If the Oceans Were Ink: An Unlikely Friendship and a Journey to the Heart of the Quran, describes her year-long study of the Quran with one of her colleagues at the Oxford Center for Islamic Studies, Sheikh Mohammad Akram Nadwi, an Islamic religious scholar educated at a prestigious Indian madrasa.Power spent 17 years writing about the Muslim world for various magazines, becoming ever more frustrated at the Western media's focus on negative stories about Muslims. Power, who felt that her own knowledge of Islam and the Muslim world were too superficial, suspected that these stories gave an unfair picture of Muslims. Power wanted to gain a deeper understanding of how the Quran shaped the Muslim worldview and guided Muslim life, and to learn how a faith that purported to preach peace and respect for women had become known for mass murder and female oppression. To increase her understanding, Power proposed spending a year studying the Quran with Nadwi, attending his lectures, meeting him for private lessons, and participating in various Muslim holiday services and celebrations, including a visit to Nadwi's hometown in India. Nadwi agreed and Power's book describes their year of study.Power's book provides a good overview of the worldview of Nadwi, a relatively moderate Islamic religious scholar who has written over 25 books, including a 53-volume biographical dictionary of more than 8,000 female scholars of Muhammad's teachings, deeds and sayings. I say "relatively moderate" because Nadwi, despite Powers' effusive praise for his moderation, respect for women, and his religious and cultural tolerance, still appears to hold fairly antiquated and hypocritical views of women and a disdainful view of Western culture, education, and human rights, not to mention other religions. I also hesitate to apply the word "scholar" to Nadwi as, despite Powers repeated praise for Nadwi's logic, reason, and education, Nadwi seems to suffer from a shockingly narrow education, having spent his life studying virtually nothing but Islamic religion and history, with no real knowledge of, or interest in, most of history, science, politics, or any other subject than Islam. Nadwi also seems to have a very narrow definition of critical thinking, logic, and reason, believing them useful only to the extent they can be used to determine the right path within Islam, not to test the validity of the Quran, Islam, or God's existence; Nadwi uncritically and unthinkingly accepts all three as being demonstrably true. Nadwi is, in fact, so certain of his religious beliefs, that he cares virtually nothing for what happens here on earth, seeing life solely as a test with the goal being a successful afterlife.Presumably because of their friendship, and because she does not want to offend Nadwi, Powers avoids asking him any of the hard questions that should be asked of anyone who not only blindly believes something but insists that everyone else should live according to his beliefs. Powers also never calls Nadwi and his fellow moderate Islamic scholars to task for their failure to root out those with a more belligerent, intolerant, and oppressive view of Islam. Those omissions render it impossible for Powers, or her readers, to really understand the worldview of even moderate Muslims such as Nadwi, much less that of his more violent brethren. And Power's readers are left with the inescapable conclusion that even moderate Muslims have little respect and tolerance for pluralism, equality, freedom of thought, and individual rights, and little interest in reigning in their fellow adherents who are anything but moderate.Thus, Powers' discussions with Nadwi, while enlightening, nevertheless fails to achieve the description on the back of her book, namely that "Armed with a new understanding of each other's worldviews, Power and Akram offer eye-opening perspectives, destroy long-held myths, and reveal startling connections between worlds that have seemed hopelessly divided for far too long." I did not find in Power's book any eye-opening perspectives, any long-held myths destroyed, or any startling connections that might unit Islam and the West on anything near equal terms, with respect, tolerance, and equality for believers within Islam or for non-believers outside Islam. What I found, mostly, was a warning about how dire the need is for Islam to undergo a Reformation and Enlightenment akin to what Christianity underwent several centuries ago if it and its adherents are ever to begin to treat the beliefs of others with anything near the respect and tolerance they demand for themselves. So, while Power's book is enlightening as to Islam, it also unfortunately gives little hope that Islam, itself, will become more enlightened, by Western standards, anytime soon.