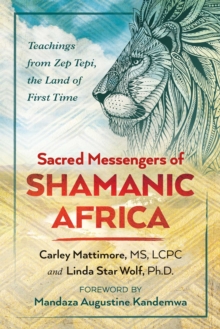 Sacred Messengers of Shamanic Africa : Teachings from Zep Tepi, the Land of First Time
Paperback / softback
Description
A guide to connecting with the wisdom and energies of ancient Africa and awakening the lion-hearted spiritual warrior within. * Reveals the wisdom and love of the White Lions of Timbavati, who have returned to help us remember our divine origins * Explores how to reconnect to our original roots in Africa hidden deep within our DNA and remember our sacred contract to guard and protect the natural world * Offers shamanic journeys to connect with African power animals as well as the energetic hologram of the 31st meridian, the spine of Mother Earth It was predicted by indigenous tribes in Africa that when the White Lions return to their sacred lands in Timbavati we would be in a time of evolutionary and spiritual awakening.
On Christmas Day in the year 2000, Marah the White Lion was born, the first "way-shower" to arrive and help us awaken to our divine origins, when we were one with all life in Zep Tepi, the land of first time.
Our spiritual warrior selves are being summoned to heal the separation between us and nature, to be the change agents of heart, as we evolve to a higher consciousness. Exploring how to awaken to the energies and messengers of ancient Africa that reside along the 31st meridian, the spine of Mother Earth, Carley Mattimore and Linda Star Wolf take you on a journey to connect with our original roots in Africa, hidden deep within our DNA.Offering a guide to reconnect with the ancient African wisdom of love and higher consciousness buried in our cellular memory, the authors show how we can help reopen the heart of humanity and heal the world around us.
Information
Format:Paperback / softback
Pages:336 pages, Includes 16-page color insert
Publisher:Inner Traditions Bear and Company
Publication Date:17/07/2018
Category:
ISBN:9781591432913