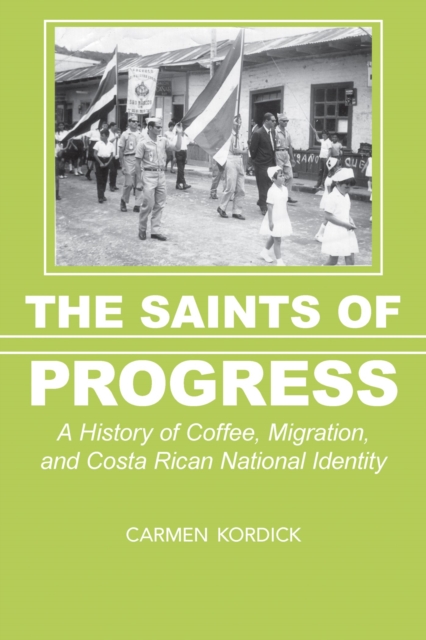 The Saints of Progress : A History of Coffee, Migration, and Costa Rican National Identity
Hardback
Description
A reshaping of traditional understandings of Costa Rica and its national identity.  The Saints of Progress: A History of Coffee, Migration, and Costa Rican National Identity chronicles the development of the Tarrazú Valley, a historically remote—although internationally celebrated—coffee-growing region.
Carmen Kordick's work traces the development of this region from the early nineteenth century to the first decades of the twenty-first century to consider the nation-building process from the margins, while also questioning traditional scholarly works that have reproduced, rather than deconstructed, Costa Rica's exceptionalist national mythology, which hail Costa Rica as Central America's "white," democratic, nonviolent, and egalitarian republic.  In this compelling political, economic, and lived history, Kordick suggests that Costa Rica's exceptionalist and egalitarian mythology emerged during the Cold War, as revolution, civil war, military dictatorship, and state violence plagued much of Central America.
From the vantage point of Costa Rica's premier coffee-producing region, she examines local, national, and transnational processes.
This deeply textured narrative details the inauguration of coffee capitalism, which heightened existing class divisions; a successful armed revolt against the national government, which forged the current political regime; and the onset of massive out-migration to the United States. Â Kordick's research incorporates more than one hundred oral histories and thousands of archival sources gathered in both Costa Rica and the United States to produce a human history of Costa Rica's past.
Her work on the recent past profiles the experiences of migrants in the United States, mostly in New Jersey, where many undocumented Costa Ricans find low-paid work in the restaurant and landscaping sectors.
The result is a fine-grained examination of Tarrazú's development from the 1820s to the present that reshapes traditional understandings of Costa Rica and its national past.
Information
Format:Hardback
Pages:312 pages, 26 black & white figures, 3 maps
Publisher:The University of Alabama Press
Publication Date:30/01/2019
Category:
ISBN:9780817320027
Information
Format:Hardback
Pages:312 pages, 26 black & white figures, 3 maps
Publisher:The University of Alabama Press
Publication Date:30/01/2019
Category:
ISBN:9780817320027