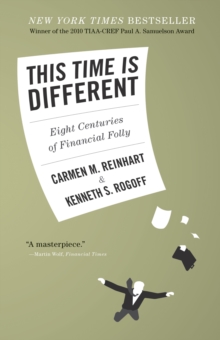 This Time Is Different : Eight Centuries of Financial Folly
Paperback
Description
Throughout history, rich and poor countries alike have been lending, borrowing, crashing--and recovering--their way through an extraordinary range of financial crises.
Each time, the experts have chimed, "this time is different"--claiming that the old rules of valuation no longer apply and that the new situation bears little similarity to past disasters.
With this breakthrough study, leading economists Carmen Reinhart and Kenneth Rogoff definitively prove them wrong.
Covering sixty-six countries across five continents, This Time Is Different presents a comprehensive look at the varieties of financial crises, and guides us through eight astonishing centuries of government defaults, banking panics, and inflationary spikes--from medieval currency debasements to today's subprime catastrophe.
Carmen Reinhart and Kenneth Rogoff, leading economists whose work has been influential in the policy debate concerning the current financial crisis, provocatively argue that financial combustions are universal rites of passage for emerging and established market nations.
The authors draw important lessons from history to show us how much--or how little--we have learned. Using clear, sharp analysis and comprehensive data, Reinhart and Rogoff document that financial fallouts occur in clusters and strike with surprisingly consistent frequency, duration, and ferocity.
They examine the patterns of currency crashes, high and hyperinflation, and government defaults on international and domestic debts--as well as the cycles in housing and equity prices, capital flows, unemployment, and government revenues around these crises.
While countries do weather their financial storms, Reinhart and Rogoff prove that short memories make it all too easy for crises to recur.
An important book that will affect policy discussions for a long time to come, This Time Is Different exposes centuries of financial missteps.
Information
Format: Paperback
Pages: 512 pages, 62 line illus. 30 tables.
Publisher: Princeton University Press
Publication Date: 05/08/2011
Category: Financial crises & disasters
ISBN: 9780691152646
Other Formats
Hardback from £21.25
EPUB from £13.46
Free Home Delivery
on all orders
Pick up orders
from local bookshops
Reviews
Showing 1 - 2 of 2 reviews.
Review by browner56
16/06/2015
It is hard to imagine that anyone with even the slightest awareness of economic issues has failed to notice two things that have occurred over the last several years: (1) governments around the world have been borrowing breathtaking amounts of money and (2) the central banks in those countries have pumped a profligate amount of new currency into the financial system in order to support that borrowing by keeping interest rates low. Whether you think these actions are remarkable or mundane probably comes down to how you would answer the following question: Does debt—particularly sovereign-level borrowing—really matter?Throughout this engaging volume, noted economists Carmen Reinhart and Kenneth Rogoff make a persuasive case that the answer to that question is a resounding "yes". Further, the authors argue that how a sovereignty borrows (i.e., from foreign investors or from its own citizens) as well as how it chooses to default on its loans (e.g., currency debasement, inflation propagation, restructured borrowing terms) also matter when it comes to the country's future growth prospects and access to capital markets. As its title suggests, the overall theme of the book is that governments and investors alike keep repeating the mistaken economic policies of the past under the assumption that "this time is different" (e.g., the more sophisticated market structures today allow us to control economic outcomes better than in the past, so we can borrow more without consequence). Using a dizzying array of data tables and charts, Reinhart and Rogoff examine the causes and aftermaths of several hundred years of financial crises and sovereign-level defaults and end up concluding that, in fact, this time is not different in ways that ultimately matter. They finish their analysis with a discussion of the root causes of the recent sub-prime debt crisis, which they term the Second Great Contraction (after the Great Depression of the 1930s). I should note that neither the subject matter nor the expositional style in this book makes for the easiest reading experience. That said, though, the authors do a very nice job in the volume of taking an extraordinary amount of primary academic research—much of it their own—and translating into a more digestible form. There are definitely redundancies throughout the various topics they cover, but Reinhart and Rogoff provide the reader with considerable guidance as to what sections or chapters can be skipped without loss of continuity. Overall, I found this to be a well-executed book with an important message to convey about the current state of global economic affairs.
Review by mldavis2
16/06/2015
Warning! This is an academic work, not a novel, and is not suitable for casual reading. It is a rigorous, exhaustively documented and very thorough look at the history of financial crisis in world history. In so doing, it compares the warning flags and false economic policy that has perpetuated macroeconomic theory and practice for world countries over past centuries and looks at common trigger events leading to historical meltdowns.The title is a facetious play on words that has led, predictably, to the current economic woes for the U.S. and world markets and economic bases. It takes into account debt, tax revenue and liberal economic policies in the banking industry that have failed to stem the tide. There are hundreds of references to world level economic studies, and anyone who wants to learn what and who pushed us into the present economic state must read this book.