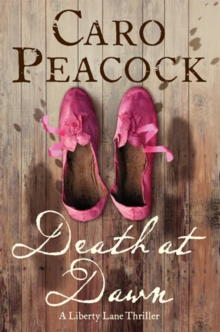 Death at Dawn : A Liberty Lane Thriller
Paperback
Description
Duelling, derring-do, and dastardly deeds are all in a day's work for Liberty Lane: a new heroine for fans of Matthew Hawkwood and Sarah Waters's Victorian novels.Thomas Jacques Lane - radical, romantic, scholar and devoted father - had led an unconventional life but of one thing his daughter, Liberty, is certain: he would never have taken part in a duel.
So when she receives a note informing her of his death in just such a manner, Liberty ignores all advice and sets off in pursuit of the truth.With no resources bar her wits, she travels to the Continent and back in search of her father's killer. And as the nation prepares for the coronation of a young Victoria, Liberty uncovers murder and treachery at the very highest levels....
Information
Format: Paperback
Pages: 432 pages
Publisher: HarperCollins Publishers
Publication Date: 07/01/2008
Category: Historical mysteries
ISBN: 9780007244171
Free Home Delivery
on all orders
Pick up orders
from local bookshops
Reviews
Showing 1 - 1 of 1 reviews.
Review by AdonisGuilfoyle
16/06/2015
The Liberty Lane books by Caro Peacock have seemingly undergone a rather confusing repackaging for the US market, retitled as 'A Foreign/Dangerous/Family Affair' instead of 'Death at Dawn/Death of a Dancer/A Corpse in Shining Armour', and faced with different cover designs. The positive reviews that prompted me into borrowing the first in the series from the library, to test the water, were obviously written by American readers, so some confusion ensued when looking up the books for myself! I'm not complaining - both versions fit into the generic branding of 'historical fiction', only the US covers suggest a later era than the UK illustration - and the publishers probably know what they are doing, but it does seem rather like overkill in this case.Moving onto the book itself, Caro Peacock's heroine and her first adventure would also seem to suggest an American author, or at the very least, a story written for the American market. Liberty Lane, who sounds like either Superman's girlfriend or a porn star, is a young lady raised by an unconventional father of a republican persuasion (Liberty's brother, only mentioned in this instalment, is called Thomas Fraternity - and as Liberty quips, had her mother lived long enough, there would probably have been an Equality to add to the family also!) Not only does she echo her father's belief in the French and American constitutions and resent the unfair balance of power in her own country, but Liberty has been educated beyond the means and requirements of her class and gender - she can speak French, Spanish and Latin, read music and play the piano, guitar and flute, can ride like a champion and enjoys the opera! All are standard talents for the independent lady detective, empowering at the same time as allowing access to the upper classes, and Liberty is no exception. She is aware of social conventions, and her role in them as a woman forced to support herself, but her upbringing allows her some freedom to buck tradition and the laws of etiquette - walking without a chaperone, talking to strange men alone, addressing those 'above her station', and of course, dressing and behaving like a young lad instead of a young lady. The narrative and dialogue also tend to make Liberty's proto-Victorian adventures accessible to a modern audience (the story is set in 1837, somewhere between the death of King William IV and the accession of Queen Victoria to the throne). Although the author has done her research - and there is a list of further non-fiction reading in the back of the book to prove it - the conversations are for the most part quite informal and only lightly flavoured with historical form and address. My only sticking point is that the Queen is referred to as 'Little Vicky', when she would have been known as 'Little Drina' if anything (her full name was Alexandrina Victoria), but that's only minor artistic licence in a book where Disraeli becomes an important secondary character! Read as an enjoyable historical mystery and not a faithful reproduction of pre-Victorian society, then the story is both informative and entertaining.I quite liked Liberty, despite her unusual name and modern thinking, and found myself thoroughly captivated by the conspiracy she stumbled upon after her father's death. The Mandeville family, particularly Celia and the children, were vividly drawn, and the villains lacked only dark mustachioes to twirl - the double-play amongst the family was also well-handled and quite surprising (I never try to get ahead of the plot, so I'm easily shocked!)A quick, light read, which I shall hope to replicate soon, with the other (double) titles in the series!