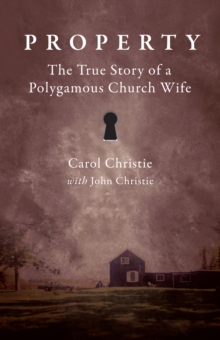 Property : The True Story of a Polygamous Church Wife
Paperback / softback
Description
The true story of a brave woman's nearly 40 years in a polygamous cult, her eventual escape, and her struggle to integrate into a world she barely knew.
In the early 1970s an innocent teenager who had led a sheltered life was forced to leave her family and enter into a polygamous, abusive, and deviant relationship with a man called the Prophet.
In 2008, nearly 40 years later, she fled his religious sect. Property is not a misnomer. It accurately depicts how the women in the sect were treated.
Carol Christie reveals the degradation, abuse, and brainwashing that the Church Wives endured.
She exposes the physical abuse, the mental cruelty, the slave labour, and the sexual deviance that took place near Owen Sound, a small community just a few hours north of Toronto, as well as at other locations.
She describes the many opportunities that officials had to investigate but walked away from, swayed by the charismatic Prophet. Carol is building a new life, one of freedom and options.
With no money and no job she started again and is now dedicated to helping others who have escaped while raising awareness about the dangers of the cult.
Information
Format:Paperback / softback
Pages:168 pages, Appendices; 12 Illustrations, black and white
Publisher:Dundurn Group Ltd
Publication Date:30/05/2013
Category:
ISBN:9781459709768