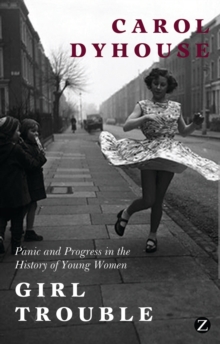 Girl Trouble : Panic and Progress in the History of Young Women
Paperback
Description
Horror, scandal and moral panic! Obsession with the conduct of young women has permeated society for over a hundred years.
Be it over flappers, beat girls, dolly birds or ladettes, public outrage at girls' perceived misbehaviour has been a mass-media staple with each changing generation. Eminent social historian Carol Dyhouse examines what it really meant to be a girl growing up in the swirl of twentieth-century social change in this detailed and empathetic history.
She draws from a dazzling array of sources to piece together the story of girlhood, clearly demonstrating the value of feminism and other liberating cultural shifts in expanding girls' aspirations and opportunities, in spite of the controversy that has accompanied these freedoms. This is a sparkling, panoramic account of the ever-evolving opportunities and challenges for girls, the new ways they have able to present and speak up for themselves, and the popular hysteria that has frequently accompanied their progress.
Information
Format: Paperback
Pages: 328 pages
Publisher: Zed Books Ltd
Publication Date: 21/02/2013
ISBN: 9781780324937
Other Formats
Paperback from £7.95
Hardback from £61.65
Free Home Delivery
on all orders
Pick up orders
from local bookshops
Reviews
Showing 1 - 5 of 5 reviews.
Review by gofergrl84
27/08/2015
Girl Trouble looks at the history of feminism in Britain and the backlash women and girls faced as they gained more independence. From the late-Victorian era to modern times, the author explores the various moral panics and cultural backlashes that have sprung up in reaction to female independence. The book is well-paced, informative, and interesting. It offers an interesting look at the obstacles girls have faced over time, even as they gain new freedoms.
Review by bwightman
16/06/2015
I received this book through LibraryThing's Early Reviewer program. Girl Trouble is a very thoroughly researched history of women's behavior and the perception of women dating from the late 19th century to the present day. The author touches on topics such as promiscuity, sexual violence, education, and body image. I felt as though the book takes topics generally addressed academically in women's studies courses and presents it well to a non-academic audience. Very interesting, well researched, and yet not at all difficult to read.
Review by cammykitty
23/09/2015
Girl Trouble by Carol Dyhouse covers a wide swath of history of the Women's Movement as it pertains to girls and young women in England. She starts at a time when people claimed the death of a female student from tuberculosis "was caused by over-education" and ends at the present when young women are out-performing young men at university. I was very interested in this book, but ultimately found myself a little disappointed. The scope of the book sounds focused, but when you think about it, it really is taking on a huge subject matter. She starts with education and the perception and role of women. She discusses sexual violence towards women, real versus overblown, and the stifling effects of protection. It covers the war economy, the shift from women who would marry to women who could not marry because so many men had been killed in the trenches. Then we get to Marianne Faithful, the sexual revolution, pornography, Kate Moss, body image. This book covered so many topics that ultimately I felt like I'd been slipping around in a bunch of interesting facts, unable to put them together. I would've been happier if the book had taken an even narrower focus, such as the progress of women in regards to education.
Review by etxgardener
16/06/2015
Controlling the behavior of girls and young women has been the concern of societies from the beginning of recorded history, and this entertaining social history of British women in the 20th Century demonstrates that despite giant strides that women have have made in the past 100 years, there are still biases and prejudices that die hard.Told with illustrative examples from popular literature, films and television. This book is an easy fascinating read. It's interesting to see the parllel tracks that the fight for women's right has tken in both the US and in Britain.
Review by cransell
16/06/2015
I was excited to get this book through Early Reviewers - a look at the history of young women in the past century or so? Yes, please! Dyhouse is a British social historian, so it was also interesting to look at the progress made by girls & women from a slightly different perspective. Having read a lot about women's history, a lot of this was familiar to me, still it was an interesting read and Dyhouse did a good job both providing a broad overview and interesting anecdotes. I bet she's a great teacher!