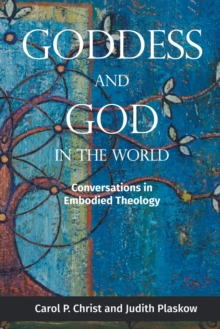 Goddess and God in the World : Conversations in Embodied Theology
Paperback
Description
Leading theologians Carol P. Christ and Judith Plaskow propose a new method for thinking about theological questions: embodied theology rooted in experience and tested in dialogue.
Their theological conversation begins from the premise that the transcendent, omnipotent male God of traditional theologies must be replaced with new understandings of divinity that can provide orientation and guidance as we face the social, political, and environmental challenges of our time.
Situating I divinity in the world and placing responsibility for the future firmly in human hands, they argue for an inclusive monotheism that affirms the unity of being through a plurality of images celebrating diversity and difference.
Carol proposes that Goddess is the intelligent embodied love that is in all being, a personal presence that can inspire us to love the world more deeply.
Judith counters that God is an impersonal power of creativity, the ground of being that includes both good and evil.
Their probing of the autobiographical sources of their theologies combined with an intense questioning of each other's views offers both a new way of theological conversation across difference.
Information
Format: Paperback
Pages: 364 pages
Publisher: Fortress Press,U.S.
Publication Date: 27/07/2016
Category: Nature & existence of God
ISBN: 9781506401188
Free Home Delivery
on all orders
Pick up orders
from local bookshops