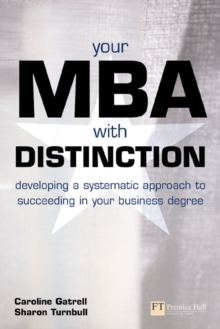 Your MBA with Distinction : Developing a systematic approach to succeeding in your business degree
Paperback / softback
Description
The key to doing well in an MBA can often appear to be shrouded in mystery, 'success' being a concept available only to the brilliant or the very lucky.
MBA with Distinction proposes that MBAs are not mystery prizes linked to the wheel of fortune, but quite the reverse.
They can be seen as a process which, if approached systematically, can be managed effectively. The advice in this book will assist readers to distinguish themselves as good MBA students, while developing their individual learning and writing styles.
It will enable readers to optimise their abilities, as well as the time they have available.
It explains the process of how the MBA works, because once students understand this, they can then begin to manage their own learning. MBA with Distinction will help all students do well in their MBAs by enabling them to feel 'in control' of their course, rather than being submerged by it.
It also includes handy 'with distinction!' tips along the way for those who seek to excel in their programme.
Information
Format: Paperback / softback
Pages: 272 pages
Publisher: Pearson Education Limited
Publication Date: 30/09/2002
Category: Business & management
ISBN: 9780273656678