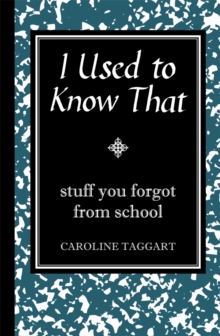 I Used to Know That : Stuff You Forgot From School
Hardback
Description
If you've forgotten the capital city of Chile; the basics of osmosis; how to solve a quadratic equation; the names of the Bennet sisters in Pride and Prejudice; who wrote the famous poem about daffodils; the use of a conjunction or the number of continents in the world, I Used to Know That will provide all the answers.
A light-hearted and informative reminder of all the things that we learnt in school but have since become relegated to the backs of our minds, I Used to Know That features hundreds of important snippets of wisdom, facts, theories, equations, phrases, rules and sayings.
A practical guide to turn to when an answer is eluding you, when helping a child with homework or preparing them for the new school year, or maybe just to brush up on trivia for the pub quiz.
I Used to Know That covers English Language and Literature, Mathematics, Biology, Chemistry, Physics, History, Geography and General Studies, so never again will you find yourself stumped!
Information
Format: Hardback
Pages: 192 pages
Publisher: Michael O'Mara Books Ltd
Publication Date: 22/05/2008
ISBN: 9781843173090
Other Formats
Paperback from £5.45
EPUB from £3.89
Free Home Delivery
on all orders
Pick up orders
from local bookshops
Reviews
Showing 1 - 3 of 3 reviews.
Review by nmhale
16/06/2015
The premise of the book is that we all learn a wealth of information in school, but forget a great deal of it, because it doesn't pertain to our everyday life. This book promises to refresh our memories of generally known subjects of information, that are probably familiar to us, but the details are lost in the recesses of time. As such, the book is divided in sections according to subject matter, such as reading or math. The most common areas of school study are utilized, followed by a final chapter that collects bits of knowledge from a variety of the elective type studies, the fine arts and mythology and the planets and so on.As the introduction indicates, I did find that I knew much of the material covered or had studied it at some point. If I could, I would be a perpetual student - too bad no one actually pays me for that - so I rather enjoy reading scholastic material, even a book like this that doesn't go deep, it just skims the surface of stuff you should know. Perhaps the best use for the book, though, is for a bit of fun trivia quizzing amongst friends, or to relieve boredom on road trips. Indeed, we did use it for that latter purpose. There's nothing special about this book, but it does make you feel a touch smarter, and can offer entertaining quizzing games with creative application.
Review by Tam2603
16/06/2015
Unfortunately it got rather boring for me in the chemistry section as I had advanced courses in Chemistry in school. The physics and biology part were interesting.<br/>All in all it was rather superficial (which wasn't so surprising given the length of the book and the complexity and vastness of topics to cover).<br/>
Review by martensgirl
27/08/2015
I'm not sure what the author was trying to achieve. It is too lightweight to be a reference book, nor did it make me nostaligic about my school days.