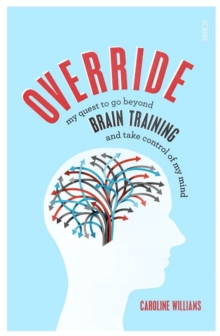 Override : my quest to go beyond brain training and take control of my mind
Paperback / softback
Description
Can you really rewire an adult brain? In theory the answer is 'yes', but there's a problem: no one seems to know exactly how to do it.
In Override, Caroline Williams goes on a mission to find out.
Neuroplasticity dictates that the brain adapts physically as we learn something new.
But although brain training may be all the rage, the latest studies indicate that it doesn't actually do much to make you smarter.
So what does? Visiting top neuroscientists in their labs, Williams volunteers herself as a guinea pig, challenging researchers to make real changes to her imperfect brain.
She seeks to improve on weaknesses such as her limited attention span and tendency to worry too much, and then branches out into more mysterious areas such as intelligence, creativity, and the perception of time.
Trying everything from high-tech brain stimulation to meditation, adding bolt-on senses and retraining her stress response, Override is an intimate, fascinating journey into discovering what neuroscience can really do for us.
Information
Format: Paperback / softback
Pages: 288 pages
Publisher: Scribe Publications
Publication Date: 09/02/2017
Category: Popular science
ISBN: 9781925228984