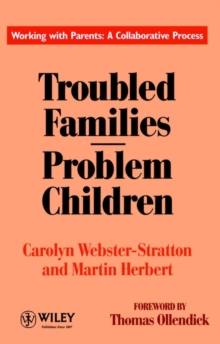 Troubled Families-Problem Children : Working with Parents: A Collaborative Process
Paperback
Description
Approximately two-thirds of all children referred to mental health agencies are labeled conduct-disordered.
Typically such children exhibit antisocial behavior -- lying, cheating, stealing, firesetting, fighting, oppositional behavior and noncompliance to parental requests -- at abnormal rates.
Troubled Families -- Problem Children helps the mental-health clinician understand the most effective "therapeutic processes" for supporting families who have children with conduct disorders.
Help for these families is particularly urgent as the children are not only at increased risk of abuse by their parents but are more likely to be involved in school dropout, alcoholism, drug abuse, juvenile delinquency, etc., and also to suffer from poor physical health.
From the Foreword by Thomas Ollendick "What sets this book apart from others of its genre is its careful attention to, and elucidation of, the 'collaborative process' in working with these oppositional, defiant, and conduct-disordered children and their families." "Webster-Stratton and Herbert do not just talk about troubled families and problem children; rather, they bring them to us in rich and graphic detail." "Troubled Families -- Problem Children is an outstanding and scholarly contribution to the field."
Free Home Delivery
on all orders
Pick up orders
from local bookshops
Also by Carolyn Webster-Stratton