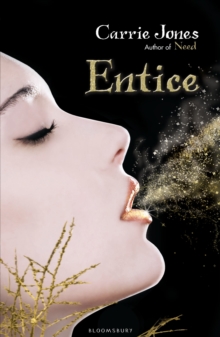 Description
Zara and Nick are soul-mates - they're meant to be together for ever.
But that's not quite how things have worked out. For starters, Nick is dead, and has been taken to Valhalla, a mystical resting place for warriors.
If they can find the way there, Zara and her friends will try to get him back.
But even if they do, Zara has turned pixie - and now she's Astley's queen! Meanwhile, more teenagers go missing as a group of evil pixies devastates the town of Bedford.
An all-out war seems imminent and Zara and her friends need all the warriors they can find ...
Information
Format: Paperback
Pages: 272 pages
Publisher: Bloomsbury Publishing PLC
Publication Date: 01/01/2011
Category: Fantasy
ISBN: 9781408810446
Free Home Delivery
on all orders
Pick up orders
from local bookshops
Reviews
Showing 1 - 5 of 5 reviews.
Review by DarkFaerieTales
16/06/2015
Quick & Dirty: Unfortunately, there is little depth to most of the characters, and not enough tension and action in this installment.Opening Sentence: "Am I really not allowed to complain about being here?"The Review:Entice continues right where Captivate ended. A dying and/or dead Nick has been taken to Valhalla. A mystical place that Zara knows little about. Desperate to get her boyfriend back, Zara sacrificed her humanity. When Astley, the pixie king, kissed Zara, her world changed forever. Zara has become the very thing that she fought against – a pixie. She is now Astley's queen. With help from Astley, Zara and her friends try to keep Bedford's denizens safe from rogue pixies and bring Nick back from Valhalla.Entice is the third installment in the Need series by Carrie Jones. While I really enjoyed the first two books in the series, Need and Captivate, I can't say the same about Entice. The pacing was slow and the plot lacked depth. Ms. Jones is a talented writer, but Entice isn't as well written as the previous books in the series. The characters weren't as interesting as they once were, the plot meanders, and the overall story arc seems to have been prolonged for the sake of continuing the series, and not the integrity of the story.I was also a bit disappointed by Zara's character in this book. Zara doesn't have the character depth and development that should come with her recent experiences; her discovery of otherworldly creatures and her transformation into a pixie. It's not that I always need Zara to be a strong character. It's understandable that she's still grappling with being a pixie queen and losing her identity, but her maturity and common sense are seriously lacking. Zara comes off as selfish, stubborn, immature and misguided. Her priorities seem to have completely shifted onto a single track – finding Nick. She often treats Astley poorly, and I'm starting to question why he believes that Zara was "meant" to be his queen.Astley's character has a lot of potential. I do have some concerns that he will not be a fully fleshed out character. For a pixie king, he's not very powerful or regal. He plays the role of the selfless and affable king keeping his word to help Zara find Nick, with little regard for his needs, his people and the impending war. This aspect makes his desperate need and reasons to take Zara as his queen dubious.This book lacks the excitement, intensity, suspense and atmospheric vibe that were once a staple of the series. Although the story doesn't quite live up to my expectations, it has a few worth-while moments. Overall, Entice just isn't that enticing.Notable Scene:I run up the bridge fueled by hope, ignoring the worry and the pain in my chest as the sound of fighting echoes beneath me, growing fainter and fainter the father I go. The muscles in my quads tense and flex and release as I sprint as fast as I can. I've always been a good runner, but this – this is insane. It's like running on a steeply sloping sand beach. Colored dust flies behind me with every footfall.Yes, I am running on a rainbow and, yes, I am no longer human, but it doesn't matter. All that matters is getting to Nick. A white bird circles in the sky over my head, leading my way as I leave behind the world of humans, leave behind the world of questions and wiggly lines between good and evil, leave behind all the mistakes I've made.To my left are mounds of earth that look like fairy tombs; to my right is a meadow on a hill where suddenly it is spring. The air is warm and amazing, smelling of lilacs and thawing ground. On top of the hill wait large standing stones like at Stonehenge. They are in a circle reaching toward the sun.The Need Series:1. Need2. Captivate3. EnticeFTC Advisory: Bloomsbury provided me with a copy of Entice. No goody bags, sponsorships, "material connections," or bribes were exchanged for my review. In addition, I don't receive affiliate fees for anything purchased via links from my site.
Review by LarissaBookGirl
16/06/2015
Nick may be dead, carried off by a Valkyrie to the mythical halls of Valhalla, but that doesn't mean that Zara is going to let him go. Zara will give anything to get him back, already she has given up her humanity but if her quest is to succeed more will be lost, lives will be sacrificed. Selfishly she risks all to get back her protector, her warrior, her boyfriend, but will he want her now that she has been kissed by a pixie?What started out as a way for her to gain access to Valhalla and retrieve her soul mate Nick has for Zara become more then she anticipated. Zara had thought it would be simple, kiss Astley, become a pixie, rescue Nick. But now things are more complicated. Zara is a Queen with responsibilities to her pixies as well as Astley, her King. Astley has given all to see Zara's needs filled, even at the expense of his own heart. However, whether she admits to it or not Zara is also loosing a little of her heart to Astley.Entice is a Pixie Queen turning others to her need, a blind desire to get back what was taken, despite the cost. For Zara, Nick's death was the excuse needed to turn her to her destiny, towards Astley and her future as a Pixie. Zara and Astley have a bond that is undeniable so even if she succeeds in finding Valhahha and rescuing her beloved Nick things can never be the same. The next instalment in this teen romance is a roller-coaster ride of danger, myth and magic.
Review by sithereandread
16/06/2015
ENTICE, by Carrie Jones, continues the story of Zara, newly-turned Pixie Queen, and her quest to save her supposedly-dead boyfriend.I was extremely excited to get this book. I really like this series and I could not wait to see if Astley fulfilled his promise to Zara to get Nick back for her. But after reading it, I have to say I was disappointed. If it wasn't for me liking the first two books, I would have probably stopped reading the whole series. But, alas since there is another book to come, I finished it and I'm actually glad I did. I felt this book just filled the gap between books until the final conclusion can be reached. There was a lot of fluff and general wandering around to avoid getting to where Zara needed to be. Also, I thought Issie was off my annoying radar, but at this point she is back on. Her ramblings just aren't cute to me and I really could do without. But besides that, there were things I did enjoy. Astley for one. I adore Astley. He consistently puts Zara's needs above all others and he has a good heart. He only wants his Queen to be happy and if that means putting his pixies or anyone else in danger, so be it. The last 1/4 of the book was where the meat of the story was and that made it extremely worth it for me. There was heart-pumping action and the story really stepped it up. All of that lead to a pretty awesome cliffhanger and I am definitely looking forward to the next book.
Review by bkwormblogger
16/06/2015
Synopsis:Zara and Nick are soul mates, meant to be together forever. But that's not quite how things have worked out.For starters, well, Nick is dead. Supposedly, he's been taken to a mythic place for warriors known as Valhalla, so Zara and her friends might be able to get him back. But it's taking time, and meanwhile a group of evil pixies is devastating Bedford, with more teens going missing every day. An all-out war seems imminent, and the good guys need all the warriors they can find. But how to get to Valhalla?And even if Zara and her friends discover the way, there's that other small problem: Zara's been pixie kissed. When she finds Nick, will he even want to go with her? Especially since she hasn't just turned...she's Astley's queenReview:This one, the third in the series, was fantastic! There are so many character developments in the story. Most importantly is Zara. Aside from the obvious, she grows in her persona to a true warrior and I loved her for it.And then there's Astley whom I adored from 'Captivate'. He really shows a depth of character in this one and Zara is wonderful with him.There are a few more surprises for all the side-kicks but generally this book is about meeting your enemy face on, not being afraid to do anythng even if it means some will not make it to the other side.Again, there's love, there's loss, there's wierd initiations and the bond of friendship. Plus we finally have Odin and Thor.I can't tell you how much more I enjoyed this book, you will simply have to read it yourselves!!
Review by ShouldIReadIt
16/06/2015
Team Nick versus Team Astley? The first two books swayed me towards Nick but, after reading "Entice" and reading about sweet and kind Astley, I couldn't help but sway right on over to Team Astley. Zara is now Queen of the Pixies, with Astley as her King, but has the same goal in mind: to bring Nick back from Valhalla to help fight the war against the evil pixies. She will stop at nothing, despite murder, traitors and mayhem breaking out everywhere in the small town of Bedford. With the deadline to rescue him rapidly approaching, will Zara get to Nick on time? Read on to see what happens.