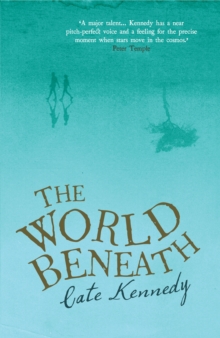 The World Beneath
Paperback
Description
Back in the eighties, Rich and Sandy were environmental campaigners: idealistic, passionate about their cause, and desperately in love.
Now, twenty-five years later, and long since separated, they have both settled into the uncomfortable compromises of middle-age; about the only thing they share in common is their teenage daughter, Sophie. When Rich decides to take Sophie on a six-day hike into the Tasmanian outback, he hopes the journey will bring them closer together.
But in the epic wilderness he once felt so passionate about, he now finds nothing but disorientation and fear - his daughter seems harder to reach then ever, and events soon begin to spiral dangerously out of control.
In order to survive, father and daughter must first traverse an emotional gulf to learn how to trust each other and believe in themselves... Intense and beautifully told, gripping to the very last page, The World Beneath is a remarkable book about the mysterious and changing landscapes of family life: a novel to lose yourself in.
Information
Format: Paperback
Pages: 352 pages
Publisher: Atlantic Books
Publication Date: 01/09/2010
ISBN: 9781843546412
Free Home Delivery
on all orders
Pick up orders
from local bookshops
Reviews
Showing 1 - 1 of 1 reviews.
Review by kiwifortyniner
16/06/2015
This is an uniquely Australian novel, the first by this author, who has written short stories before this. It revisits the Franklin river blockade and tells of a trek through the Tasmanian wilderness. Rich and Sandy met during the Franklin river blockade and parted some years later after having a child Sophie. The Franklin river blockade was for them the defining moment of their lives, something they often hark back to, but something which bores their daughter Sophie. Since then Rich has had a series of dead end jobs and struggled to try and become a successful professional photographer.. He still laments his careless loss of the 'perfect' photo he took of the Franklin river. Sandy has turned into an aging hipppie still trying to sell her jewellery at the markets, and very concerned about what others think. Because she does not want to be a controlling mother like hers was, she has little idea of what is happening to her daughter who lives on a regime of little food and lots of exercise to try and get some control in her life. Sophies father who has only had contact with her at birthdays calls and wants to take her on a trek into the Tasmanian wilderness, much to her mother's disapproval, but Sophie is keen so they go. he wants to get to know her better and gain her acceptance. This leads him to take the two of them on an extra trek on their own to really experience the widerness, after the main trek is complete, and that is when things go really wrong, and they are not on their flight home.I won't give any more details of the story. It was to me an excellent study in family relationships, especially between Rich and Sophie. Neither Rich or Sandy, Sophies mother, were very likeable characters. Sophie was the one who changed the most and I came to admire her more at the end of the story. It was a well written story with great descriptive language and although the end was a little drawn out it was still a great read.