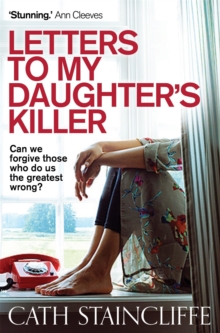 Letters To My Daughter's Killer
Paperback
Description
SHORTLISTED FOR THE ITV3 CRIME THRILLER BOOK CLUBGrandmother Ruth Sutton writes to the man she hates more than anyone else on the planet: the man who she believes killed her daughter Lizzie in a brutal attack four years earlier. Ruth's burden of grief and hatred, has only grown heavier with the passing of time, her avid desire for vengeance ever stronger. In writing to him Ruth hopes to exorcise the corrosive emotions that are destroying her life, to find the truth and with it release and a way forward. Whether she can ever truly forgive him is another matter - but the letters are her last, best hope.Letters To My Daughter's Killer exposes the aftermath of violent crime for an ordinary family and explores fundamental questions of crime and punishment. How do we deal with the very human desire for revenge?
If we get justice does reconciliation follow? Can we really forgive those who do us the gravest wrong? Could you?
Information
Format: Paperback
Pages: 240 pages
Publisher: Little, Brown Book Group
Publication Date: 17/07/2014
Category: Crime & mystery
ISBN: 9781780335711
Free Home Delivery
on all orders
Pick up orders
from local bookshops
Reviews
Showing 1 - 3 of 3 reviews.
Review by nicx27
16/06/2015
This book is made up almost entirely of letters from Ruth to the killer of her 29 year old daughter, Lizzie. In them she tells the story of what happened to Lizzie in such a way that it doesn't feel like a series of one-sided correspondence. Ruth tells of her desolation, her loss, her feelings for the killer and her difficulty in dealing with her granddaughter, Florence.I raced through this book as I found it to be compelling reading. It's an interesting format which worked very well. The quality of the writing is excellent and held my interest throughout the whole of the book. I just couldn't put it down. I found Ruth's account of the loss of her daughter moving but not too emotional and I was able to empathise, to try and put myself in her position. Cath Staincliffe is a brilliant writer.Thank you to the publisher and Netgalley for letting me review this book.
Review by shelleyraec
16/06/2015
"I hate you. My first letter, and that is all I want to say. I hate you. But those three words can barely convey the depth, the breadth, the soaring height of this hatred."Letters To My Daughter's Killer by Cath Staincliffe is a story of grief, anger and heartbreak, beginning with the brutal murder of a young wife and mother and exploring the consequences for those that loved her.It unfolds in a series of letters written by Ruth Sutton to the man who bludgeoned her precious daughter, Lizzie, to death, four years earlier. In a desperate bid to recover some equilibrium, Ruth hopes that by writing to the killer, and asking him for answers to the questions that haunt her, she can purge herself of the fury that threatens to destroy her soul.As Ruth relives the horror that began with a phone call, Staincliffe portrays the raw reactions of a grieving mother to her daughter's violent murder with skill and compassion, exposing the shock and bewilderment which slowly gives way to anger and heartache as Ruth is forced to deal with the strain of the aftermath, including caring for her young grand daughter, and the police investigation, the killer's capture, and the trial that follows.Intense, shocking and poignant, Letters to My Daughter's Killer is an emotionally taxing read.
Review by tina1969
16/06/2015
Grandmother Ruth gets a call from her son in law that changes her life, her daughter Lizzie has been found dead. To try to get some sense of what has happened Ruth writes letters to her daughter's killer.This book is told mostly in letter form from Ruth to the killer. It very much reminded me of We Need toTalk about Kevin. I found this book a different type of read. As the story is told from Ruth the reader sees the crime from the victims side rather than the police, or tbe perp. The reader gets to feel all emotions that Ruth feels first hand. The perp is revealed early on so there is no mystery to solve. This book is more of an emotional read.I enjoyed the court proceedings and when the verdict is read I was on the edge of my seat as doubt was put in my mind. This for me is good reading and I felt like I was a member of the jury myself.Another good read that was featured on the ITV 3 Crime Thriller Awards. I can highly recommend this read.